If there was a team-name competition at the Absa Cape Epic (and maybe there should be!), Linda Dhlamini and Shaun Mokoena would be shoo-ins with their Absa-sponsored Fearless Fairies.
This isn't Linda's first rodeo. In 2019, the Meadowlands, Soweto resident arrived at the Absa Cape Epic Prologue after a 24-hour bus trip from Soweto, a rudimentary mountain bike in tow and sans clipless pedals. Few gave him a shot at finishing the Untamed African MTB Race. "They just told me the week before I was going to race it so I started to do some research about it. I wasn't ready to race it, but in terms of my mind I prepared myself that I just have to finish." Finish he did, with aplomb, and was rewarded with an entry to the 2020 (now 2021) event through Absa's Conquer as One programme.
The 2021 event is a less terrifying affair for Linda. "Coming here to Cape Town for the first time, not encountering so much mountains… seeing Table Mountain and they were like 'you are going up there' and I was like, you guys can't do that. Since then, I practiced every day, you know we don't have mountains in Johannesburg, but I am better prepared this time. But then I get here and they changed the route. I thought I was preparing for the same as before. The climbs last time weren't that bad."
I have to finish it for my neighbourhood. You know, Soweto doesn't have a lot of recognition when it comes to cycling.
We caught up with the pair at the end of the brutal, weather-whipped Stage 5. Shaun was born in White City, but grew up Orlando West. "My dad got me a bike when I was three, and it was a jol!" This day had certainly not been a jol; "The one moment you are going up, the next moment you are going down for only two seconds and in the middle of that I almost had a fatal crash. But I am here, and that's all that matters." A bellyful of Woolworths lunch, and already the horror is fading into nostalgia.
The 'why' for coming back to something so tough is an easy answer for Linda. "I have to finish it for my neighbourhood. You know, Soweto doesn't have a lot of recognition when it comes to cycling. People only know soccer, also netball". For Shaun, who had a year and a half to prep rather than a week, the pull of the Absa Cape Epic was twofold. "Firstly, the motto of the race, The Race That Measures All, and to meet the big guys, Schurter and Avancini, to meet them in person."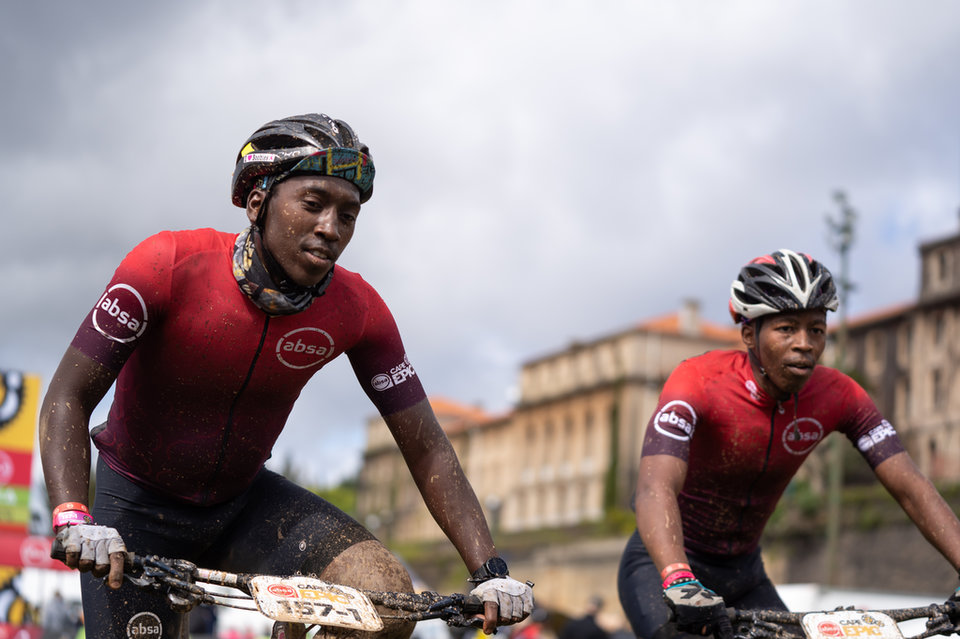 But these guys are deeper thinkers than that fan-boy throwaway. "What we are actually gunning for is to get a whole lot of exposure, especially for Soweto, because people still consider it as one of the most dangerous places, we want to change that stereotype" says Linda. "There's something good in the neighbourhood," Shaun chimes in. "We also started our own team - Fearless Fairies - this initiative takes young kids who have no bicycles, no experience of riding whatsoever, and then we train them from scratch. We sometimes struggle with a shortage of equipment, and even bikes, but we do what we can to keep them going."
As incongruous with their backgrounds as the team name might seem, it has a solid origin. "We are both very brave, but we also often ride in pink tutus, with pink wings, because we are all vulnerable, too."