Speak to the veterans, and they will tell you the hardest part of preparing for the Absa Cape Epic is choosing your partner. The 2021 field boasts 11 married couples, nine father/son pairings and seven sets of siblings. How can that work?
The finish line of the Absa Cape Epic always paints a canvas of joy and relief, as the riders tick off another stage on their way to the Grand Finale. The same picture isn't always drawn out on the route, where interpersonal relationships are often tested to the limits (and beyond).
Father-and-son Jan and Jan-Hendrik Gutter are tackling their third consecutive Absa Cape Epic together, and both drop the word 'privilege' before thinking deeper about why their partnership works so well. "Actually, riding with family is the easiest for me," says dad Jan. "We get along well, we don't need to learn that like with a stranger." Have there been 'moments'? Only one, says Jan Hendrik. "My dad took a stupid fall over a blackened stump in 2019, and went very quit for a while. At the next water point, he rode on while I got his bottles, and when I asked if he was ok, he snapped 'hou op met vra!' And we rode on… it was sorted out very quickly."
MTB pros Yolandi and Ben-Melt Swanepoel have both ridden the event many times as category-contenders, but are together for the first time in 2021. "Patience and commitment is the key. We both have strengths and weaknesses, and we can only go as fast as is realistic." As a former top-ten finisher in the Men's category, Ben-Melt is experimenting with a dual Garmin system on his bars for 2021: "I can see Yolandi's heart rate at all times, so I have a better feel for where she is, and can ride accordingly."
Pretoria doctors Adrienne and Anton Moolman are riding their second, but their first together. Adrienne pioneered in the inaugural 2004 event, but a bad crash and busy life kept her away from the event for many years, while Anton rode with a friend in 2017. "MTB is one of our commonalities, it is something we do together, our down time," says Anton. "If he played squash, and I didn't, I would hate it," says Adrienne. "MTB is our lifestyle. We have built our own trails at home, it's what we do. Even the kids love it." How do they survive the daily stress of The Race That Measures All? "We don't get pissed off."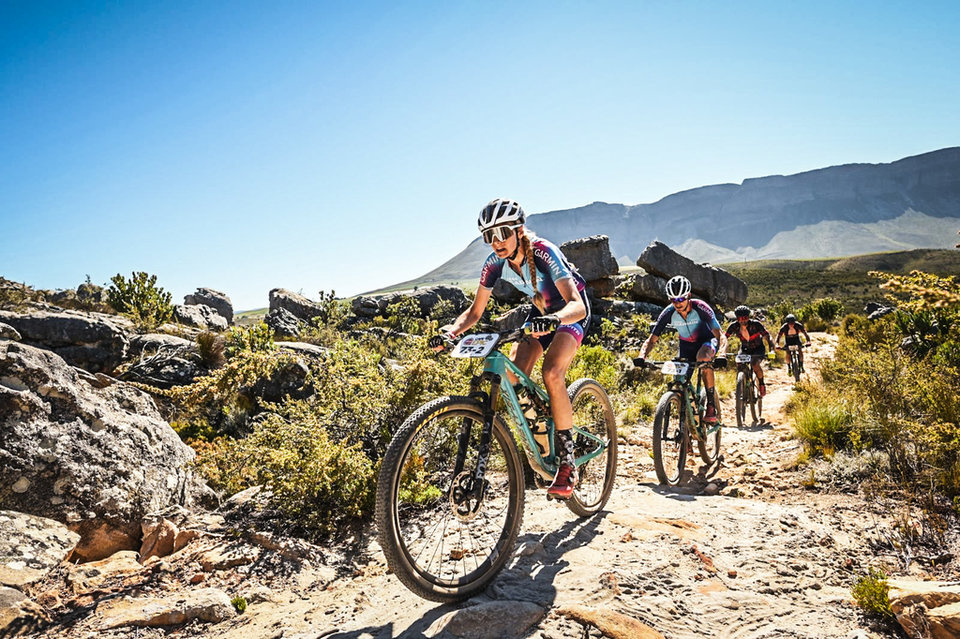 Patience and commitment is the key. We both have strengths and weaknesses, and we can only go as fast as is realistic
The respect and friendship between team i1 Solutions Allan and Shaun Timm is palpable are they negotiate their post-stage Woolworths refreshments. The recap of the stage is businesslike, and gentle, with a touch of buddy: "I think family is far better at dealing with the stress of events like this. We can give and take abuse without taking it personally, and we know each other so well," says dad Allan. "You can be far more patient, which is critical, when you know somebody is doing their best, has prepared properly. We share a coach, and know exactly what each other is capable of." "It's all about communication. And I'm more patient,' says Shaun, but dad missed that as he reached for a milkshake.