Lourensford Wine Estate served up a scorcher for the start of 18th Absa Cape Epic.
Temperatures in the mid-30s did not torch the racing over the 24-kilometre Prologue, however, and the sharp end was ablaze. The game, as it usually is with the Prologue, was a balancing act, a case of pushing as hard as possible while managing efforts in the heat. Walking the tightrope best to rise above the furnace was defending champion Matt Beers and reigning XCC World Champion, Christopher Blevins. The Toyota-NinetyOne-Specialized outfit roasted the course in a time of 58:06 to pull on the first Yellow Jersey of the 2022 Absa Cape Epic. Ominous signs for the other teams as that is exactly how Beers and 2021 partner Jordan Sarrou kicked off their successful campaign. In a close second, seconds adrift, was Speed Company Racing. Georg Egger and Lukas Buam were undoubtedly the surprise of the day.
"It was definitely a surreal feeling lining up as a defending Champion," Beers commented. "Because it is only five months since the last race the hype has stayed really high so it is quite a unique position to be in. We're really happy to take the win today to race within ourselves and set the tone for the week."
While many teams made it through the Prologue, the day was not without drama, however, as SCOTT-SRAM MTB-Racing's Nino Schurter punctured early on in the stage, leaving him and his 2019-winning partner, Lars Forster to twice plug the hole and eventually have to change the wheel. In the end they lost time. But this is the Absa Cape Epic and the racing has just begun.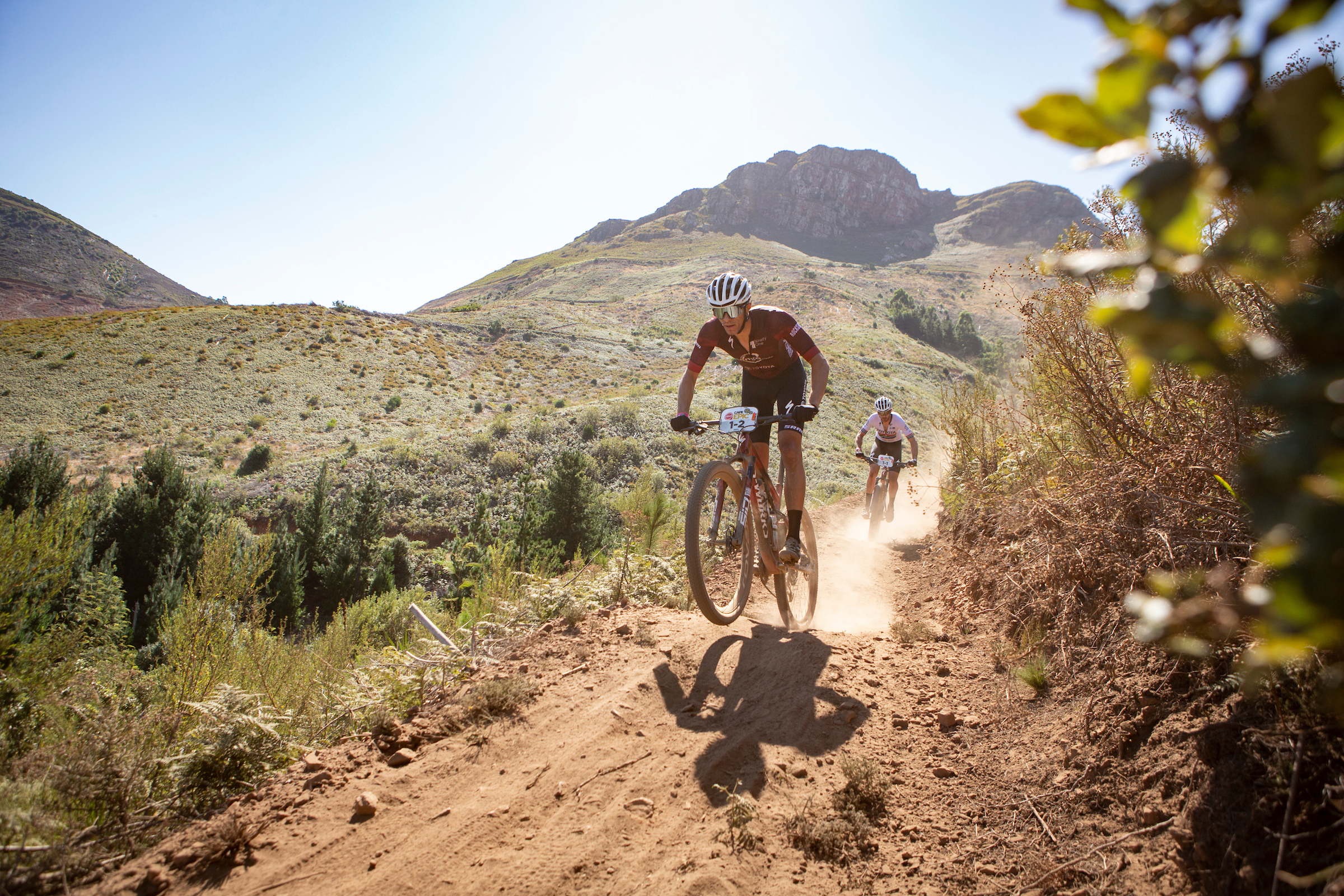 "It was definitely a surreal feeling lining up as a defending Champion"
In the CM.com Women's category, the BMC MTB Racing team of newcomer Pauline Ferrand-Prévot and experienced South African Robyn de Groot claimed the Prologue win in a time of 01:09 to don the Orange CM.com Women's category leader jerseys. Ferrand-Prévot, a multi-discipline World Champion in road racing, cyclo-cross, and mountain bike cross-country (her last MTB world championship title coming in 2020). "I felt really good out there; it was hot, but I felt strong. Robyn was a great partner, she was really good out there," a visibly elated Ferrand-Prévot commented at the finish.
All-South African Faces Rola pair of Candice Lill and Mariske Strauss rode a super consistent stage and landed heavily on their cross-country skills to finish just over 40 seconds back, while Amy Wakefield and previous winner Ariane Luthi (Symbtech ZA) came in third.
Further back in the field it was all about getting the event going without having to burn too many matches.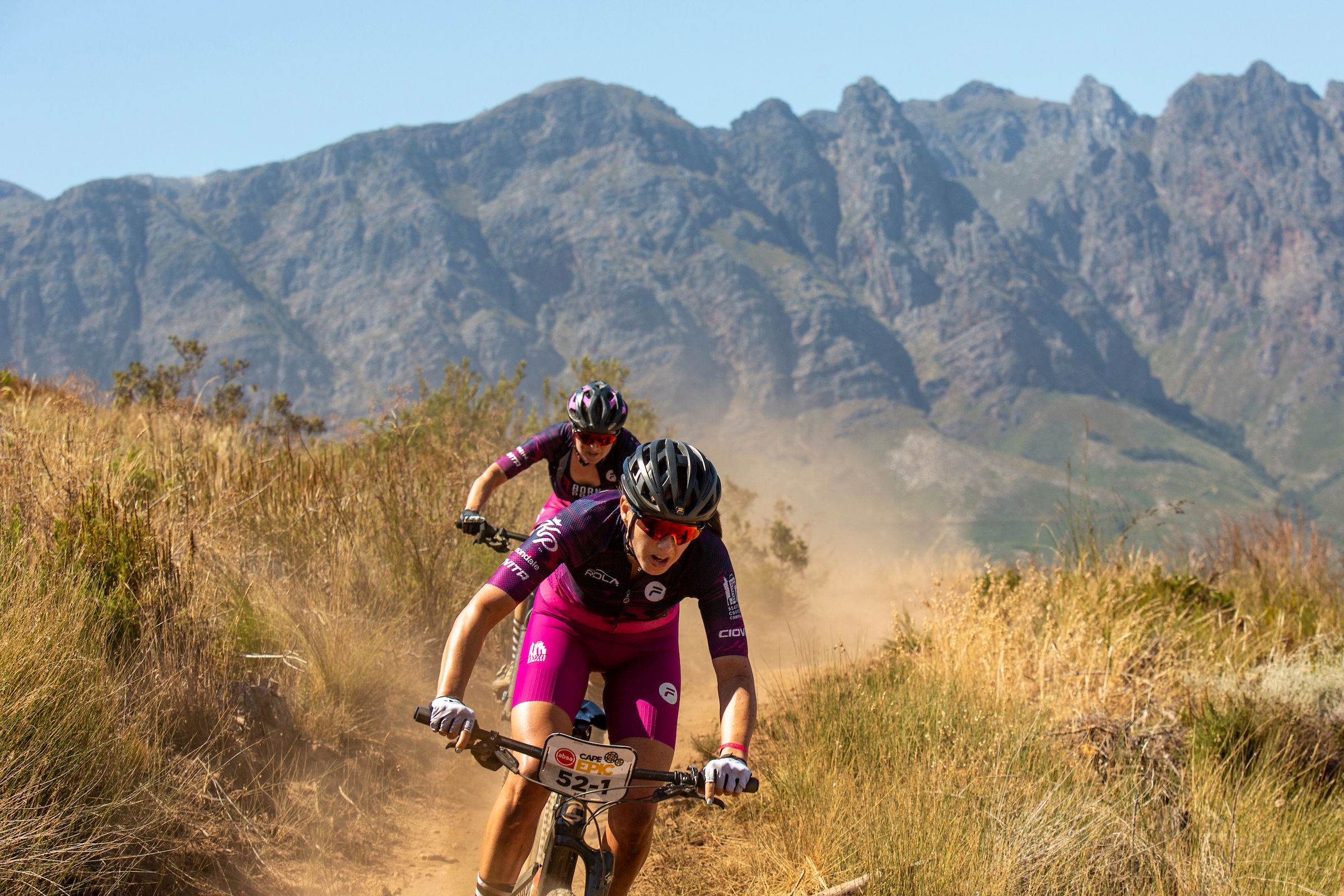 "I felt really good out there; it was hot, but I felt strong. Robyn was a great partner, she was really good out there"
One team who had a great day out were Letshego Zulu and Phathokuhle Zondi. They were super bubbly at the start and excited for the ride and kept that spirit going through the beautiful Lourensford Trails to finish in a time of 01:45 "We're going to keep smiling until we don't!" Joked Letshego before the start.
As chuffed with their performance today was the Absa Amawele pair of Oliver Munnik and Nic Dlamini. "Nic became a mountain biker in the past hour and seven minutes," said Munnik at the finish of his road-pro partner.
"I'm really starting to enjoy mountain biking and am looking forward to the rest of the week," added Dlamini, who rode the Tour de France for Qhubeka NextHash in 2021.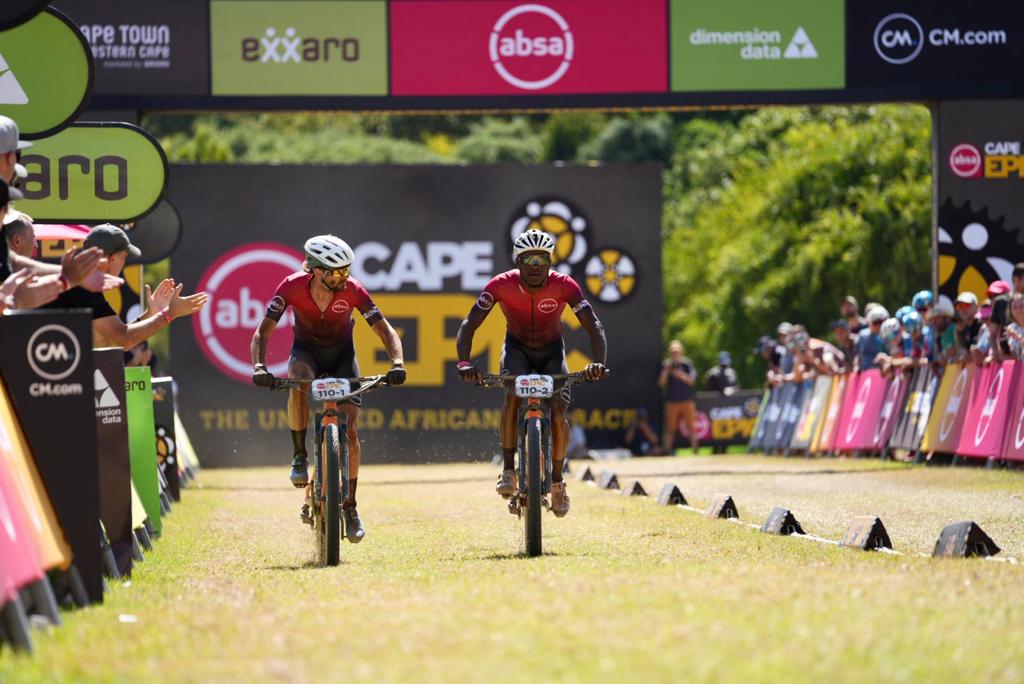 For the first time ever pros and amateurs alike don't have to transfer to a new stage location for Monday's Stage 1 allowing them more time to recover ahead of the 92-kilometre stage that features a brutal 2850 metres of climbing, much of it in the first 60-kilometres. The Queen Stage will see riders making their way towards Stellenbosch's Helderberg Mountain range before heading back to Lourensford Wine Estate for some hard-earned recovery before the race heads towards Greyton.
Tune in on www.cape-epic.com, on Facebook, YouTube, or download the Epic Series App for access to the Live Broadcast and Live Tracking throughout the stages.