NinetyOne-Songo-Specialized wins thrilling Stage 1 in CM.com Women's category.
The CM.com Women's category racing on Stage 1 of the Absa Cape Epic was like a ding-dong football match where both teams forget to defend, so frequently did the lead change hands on the day. After a thrilling day on the trails, NinetyOne-songo-Specialized (Sofía Gómez Villafane and Haley Batten) claimed the stage and moved into the overall lead, and in doing so claimed the orange leader jerseys.
Candice Lill and Mariske Strauss were first to go ahead on Stage 1 with an early attack in the first 5km, only to lose the lead to NinetyOne-songo-Specialized on the King's Climb. Gómez Villafane and Batten then moved into the lead until the stage's main climb that was fittingly named in the end as most riders were out of the saddle near the top.
NinetyOne-Songo-Specialized started to take strain here, allowing Symbtech ZA (Ariane Lüthi and Amy Wakefield) to snatch the lead. Lüthi and Wakefield were, at one stage, three minutes off the lead on Stage 1, then managed to race into a two-minute lead over NinetyOne-songo-Specialized. Incredibly, Gómez Villafane and Batten were able to rally once more, and eventually overtook Symbtech ZA, who were struggling with a flat tyre, racing away to claim the stage.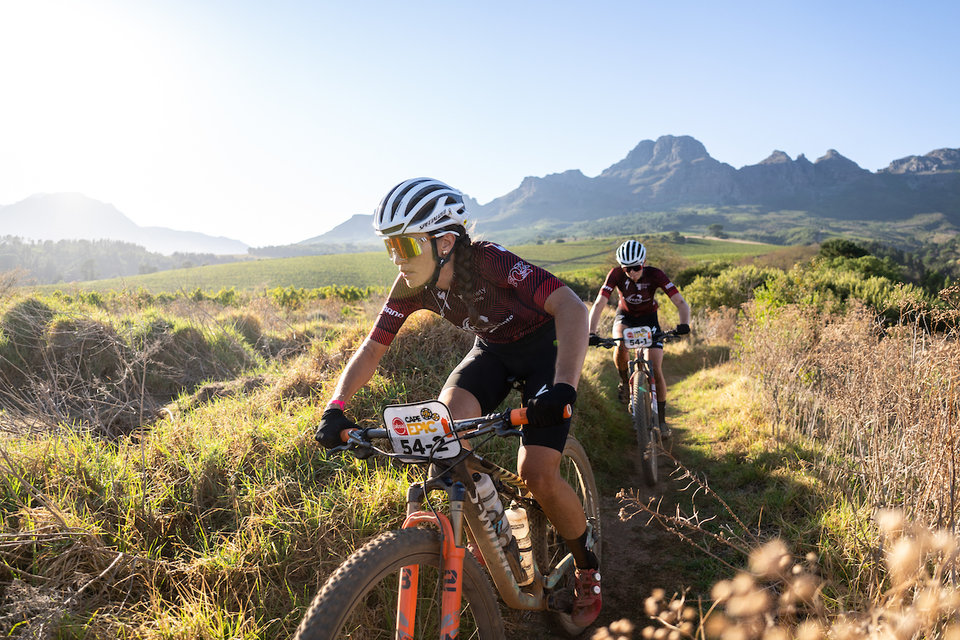 Symbtech ZA finished second (moving into second in the General Classification at the same time), chasing all the way, with Lill and Strauss taking third spot (and third in the GC) and extending their Absa African Women's jersey lead. BMC MTB Racing (Robyn de Groot and Pauline Ferrand-Prévot), the Prologue winners and overnight leaders in the CM.com Women's category, struggled on the day, finishing fourth and relinquishing their orange jerseys to NinetyOne-songo-Specialized. "I just wasn't feeling very well on the day," said a subdued Ferrand-Prévot.
American rider Haley Batten, on the other hand, was thrilled with the team's performance, calling the race 'truly epic'. "Oh my gosh, that was such an intense race. You want a tight race rather than winning too easily, but that was so close. We got a bit lucky with Symbtech ZA struggling with mechanicals. But that happens. That's the kind of racing that makes an event exciting. Ariane and Amy really put on a great show; when they came past us on that steep climb I said to myself 'it's game on now'. I had to mentally dig in to chase back."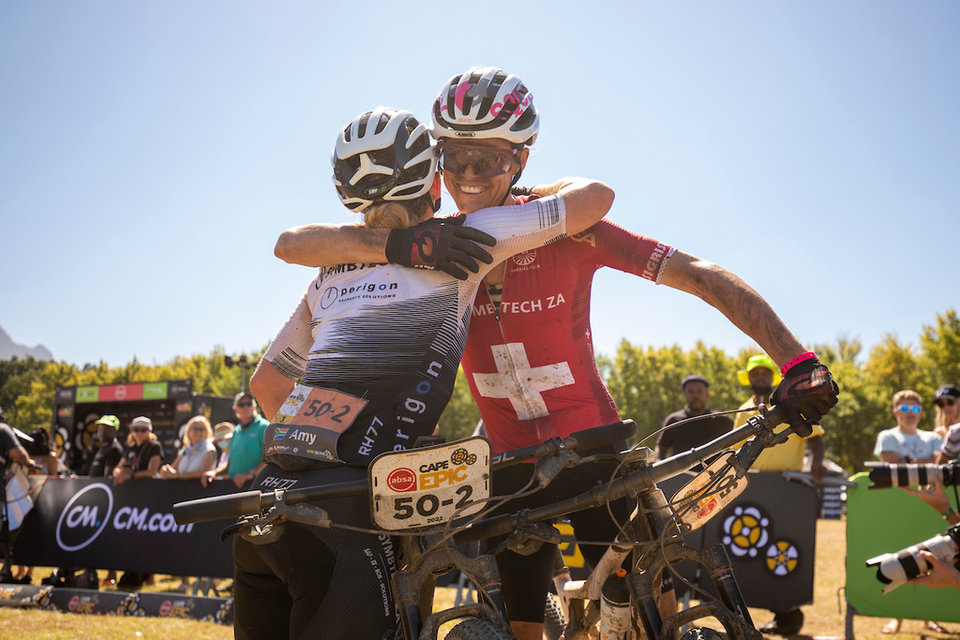 Batten's partner, Argentinian Sofía Gómez Villafane, took some strain on the Saddle Climb but was able to regroup for a strong finish. "That was an incredible race. When Ariane and Amy overtook us, they were flying. I knew it was going to be tough after that and had to just take it step-by-step. Haley was such a good partner today - she reminded me to eat and drink, coaxing me home all the way."
Both riders admitted they were happy to be finished. "Man, that was a long final 10km," said Batten. "It just went on and on. I forgot how long 10km can be." Gómez Villafane echoed Batten's sentiments. "At 2km to go, I thought 'how can it still be 2km. It's so long'. That was an exceptionally hard day of racing."
Although missing out on the top spot after riding strongly, Wakefield and Luthi were in high spirits after crossing the line. "Today we went out with a clear strategy," said Wakefield. "Ariane was in charge of the pacing; she said we must just watch the watts and focus on our own pace. It worked so well because soon we started catching and passing teams. On the Saddle Climb, we pulled away and just kept riding at our rhythm."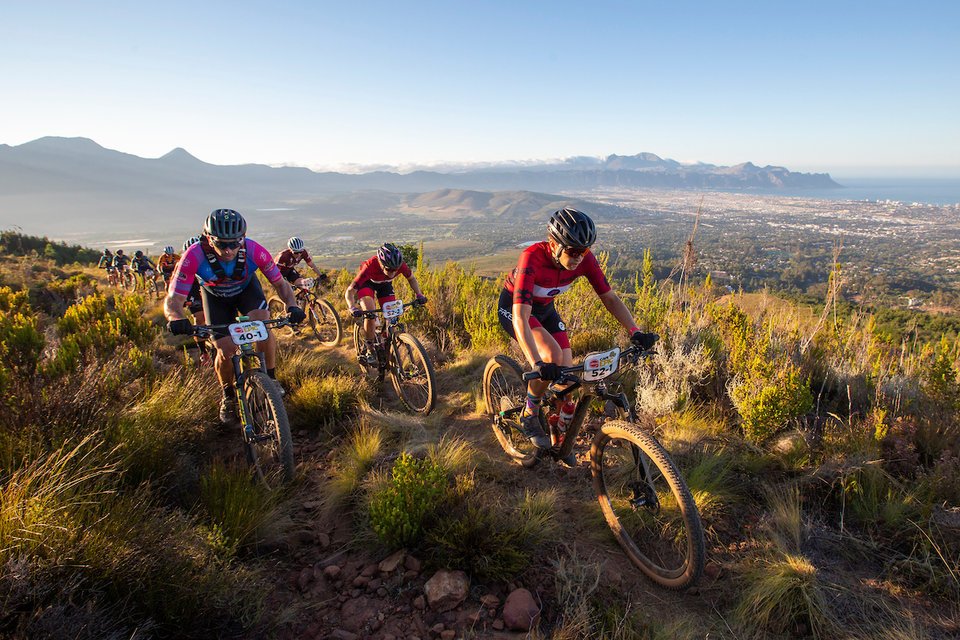 Unfortunately for the popular pair, Lüthi punctured soon after the climb. Neither of the riders could find the exact spot on the tyre and had to repeatedly stop to inflate. "I think I just had heavy legs on the bike and was too heavy going over some sharp rocks. It happens. That's racing. We kept cool and rode consistently to the end. You can't get flustered with one puncture. We just focused on what we had to do and made it home with consistent riding. There's still a long way to go. We're in pretty good shape."
Stage 2 sees the riders leaving Lourensford Wine Estate for Elandskloof Farm Cottages, Greyton, travelling 123km in the process out of Somerset West and through Grabouw before reaching their final destination. Another tactical battle is certainly on the cards.
Tune in to the Live Broadcast of the first transition stage of the 2022 Absa Cape Epic from 08:30 on cape-epic.com.