Paddy and his Princess tackle the Absa Cape Epic
"As soon as I get to Stellenbosch I know I will be okay," says Chloe Nangle, explaining how she studied the route of her debut Absa Cape Epic and knew that the mid-section around Greyton would be her biggest challenge. Chloe is one half of Team Paddy and his Princess and is currently a student at the University of Stellenbosch.
"Those are my home trails. I love them so as soon as I get there I know I will be good!"
'Paddy' is the moniker of Chloe's father, Des Nangle, an Irishman who is well known for proudly flying the big Irish flag on the finish line. Paddy is a six-time finisher of the Absa Cape Epic but this one with his daughter has been his most special experience yet at the event. And it has been a long time coming…
Back in 2014, when Chloe was just 13-years-old, she competed in a privately-hosted Dimension Data race in the Cradle of Humankind. The race was affiliated with the Absa Cape Epic. "I raced the 20km course and won against a bunch of men and quite a lot of people were surprised at how young I was," she says.
Chloe's prize was a book about the Absa Cape Epic which was presented by Race Founder Kevin Vermaak. "During the prize-giving ceremony I told him it was my dream to ride the Absa Cape Epic with my father when I was old enough." It is the kind of spirit that epitomises the Untamed African Mountain Bike Race and Kevin was quick to pen a message in the front of the book: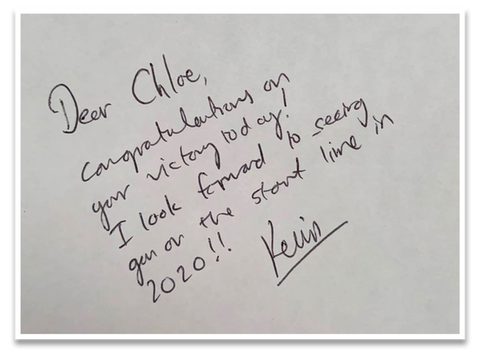 2020 didn't happen due to the global pandemic and the 2021 event didn't work out for her, although Paddy was there. In '22, Paddy and his Princess are making it happen and are going well so far. "She trained her heart out," Paddy says proudly. "She has been putting in 18 hours a week and hammering the trails around Stellenbosch." The pair have been overwhelmed by the support and have a WhatsApp group with over 200 members cheering them on.
"She trained her heart out. She has been putting in 18 hours a week and hammering the trails around Stellenbosch."
When quizzed about the team dynamic Paddy is philosophical in the way only a proud father could be. "We did a lot of training together to get the dynamic sorted," Paddy says. "She is always in front to set the pace and she is talking her way through the Absa Cape Epic, chattering to the whole group around us to keep everyone positive. The support of the other riders has been amazing too."
Stellenbosch is beckoning as Stage 5 will take them some 115km from Elandskloof to Chloe's backyard in Stellenbosch. Chloe is quietly confident, but reserved. "I am quite young, so I feel like my endurance might not be as good as the older guard, but let's see. I'll keep smiling, keep talking and keep going!"