Come rain or shine, or more rain... There will be some classic war stories from throughout the field over the next few days.
The race village bush telegraph is a powerful thing. Dangerous even. As a rider, crew member or team staffer you need to have your BS detector well tuned in to shift fact from rumours, myths and lies.
What is currently raging across whatsapp groups and dinner conversations on the lips is rain. THE rain. And it's no rumour...
Torrential downpours is nothing The Race That Measures All has not seen. There have been some apocalyptic weather stages before. These have been immortalised in the annals of the race and those who rode them and worked on them remember them proudly. Among others, these included the 2004 stage into Swellendam and 'that' stage into Oak Valley in 2012, Arabella in 2014.
Whether Friday and Saturday's stages will become known as one of those, only time will tell. What we do know is that the rain is 'the same for everyone,' as Robyn de Groot (Salusmed) said after Stage 3.
I am from Portugal and Hans is from Holland; it rains a lot there. So we say 'bring it on'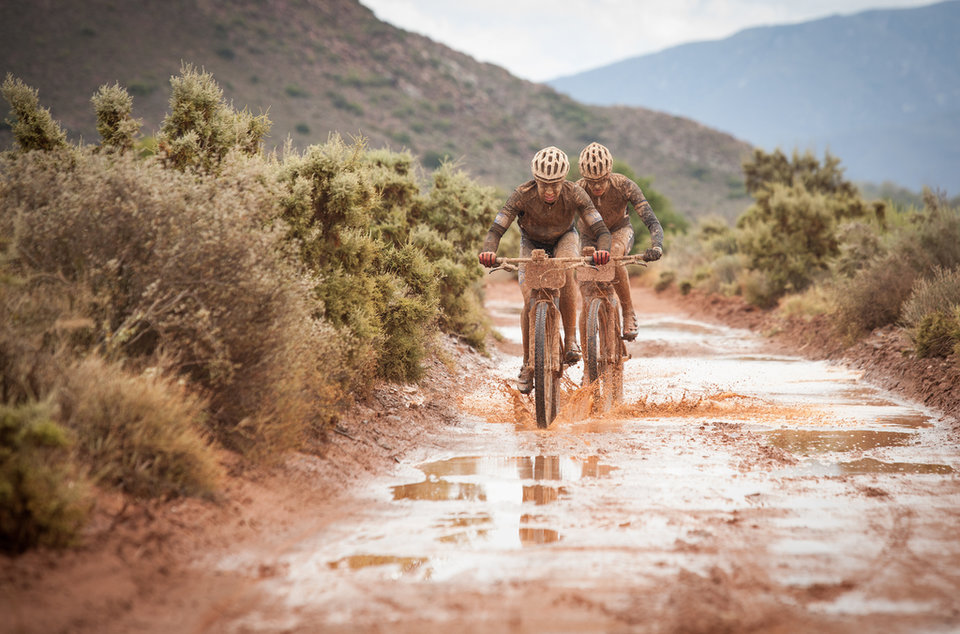 It also doesn't bother José Dias of Stage 3-winning Buff Scott MTB, "I am from Portugal and Hans is from Holland; it rains a lot there. So we say 'bring it on'."
Marc Carr, master mechanic and Absa Cape Epic veteran wrench, isn't looking forward to Friday's carnage. "The bikes are not gonna be good. If it gets muddy, we are talking about bearings and pads and all sorts." Saturday looks like the stage will take place in the rain, rather than after the rain, which will wash the bikes to some extent as they are ridden. "Brake pads. Lots of them. Especially the less experienced riders who are heavier on the brakes." Would he swap out for metal pads in expectation of the deluge? "Probably, but it adds cost. If your pads are less than half worn, ride them, you might get away with it."
For the midfielders and backmarkers it will be a longer day in the rain but they will no doubt have great war stories to tell. "It could well be our day to shine," joked Max Menzies of the Steel Challenge singlespeeder team.