Message from
the race Founder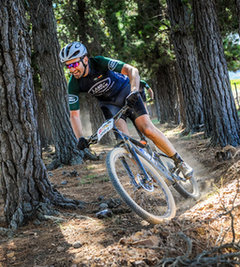 It's safe to say that the past 18 months have been the most stressful, since the first 18, in the history of the Absa Cape Epic. Having to cancel the 2020 race, just two days before the start, was undoubtedly the toughest decision we've ever faced. Hindsight is 20/20 the saying goes, and looking back now that was unquestionably the right choice. But it doesn't make it any easier, or offset the disappointment every rider, support crew member and mountain biking fan felt.
Now, building up to an Absa Cape Epic in October, I'm constantly aware of the effects of Covid-19. The race itself won't be too different. Off the bike a lot has changed, though. Safety measures have been put in place to ensure teams are able to socially distance from each other, mask wearing will be standard procedure and sanitising will be even more important than it usually is in the Absa Cape Epic race villages. The global roll-out of vaccines has eased fears significantly, but we still need to be cautious and continue to practice the protocols which have become part of our daily lives over the course of the past year.
With that in mind, I'd like to remind you to familiarise yourself with the Absa Cape Epic's Covid-19 mitigation protocols. The race relies upon individual responsibility to maintain a safe environment for everyone. That said, we don't want the event to be overshadowed by Covid-19.
The Absa Cape Epic team have been working tirelessly to present a world-class event. The route is one of the most technically challenging yet and is geared towards producing exciting racing. I believe the top teams will have to be cautious throughout, as there are so many opportunities for race-ending mechanicals on the rugged trails of Ceres, Tulbagh and Wellington. For the amateur teams the 2021 Absa Cape Epic will truly be a once in a lifetime experience, made more memorable by the unique circumstances.
In the past we've had finishers reminiscing about the first Epic, the longest Epic, the toughest Epic, or the steepest Epic. After this year, the finishers will certainly remember it as the October Epic. And I'm as certain that those memories will be overwhelmingly positive.