The legends of mountain biking, the pioneers from the 1990s are now in their 50s and eligible for the Absa Cape Epic's Grand Masters category. Times have changed, mountain biking technology has improved dramatically, but their desire to race is by no means diminished.
Before Tom Pidcock was even a twinkle in his father's eye, Bart Brentjens was winning Olympic gold medals. Or to be precise, the current Olympic Champion was born in 1999, Brentjens won the inaugural Olympic gold in Atlanta in 1996. Since then, he has gone on to win the Absa Cape Epic's elite category; the Dimension Data Masters category, on four occasions, and the Grand Masters once.
Brentjens is not the only Grand Masters campaigner who has multiple Absa Cape Epic category titles to his name. The other is Barti Bucher. The Swiss rider has 11 Absa Cape Epic finishes to his name; every one of them a first or second position in his category. He has won the Virgin Active Mixed category (once), the Dimension Data Masters (twice) and the Grand Masters (three times).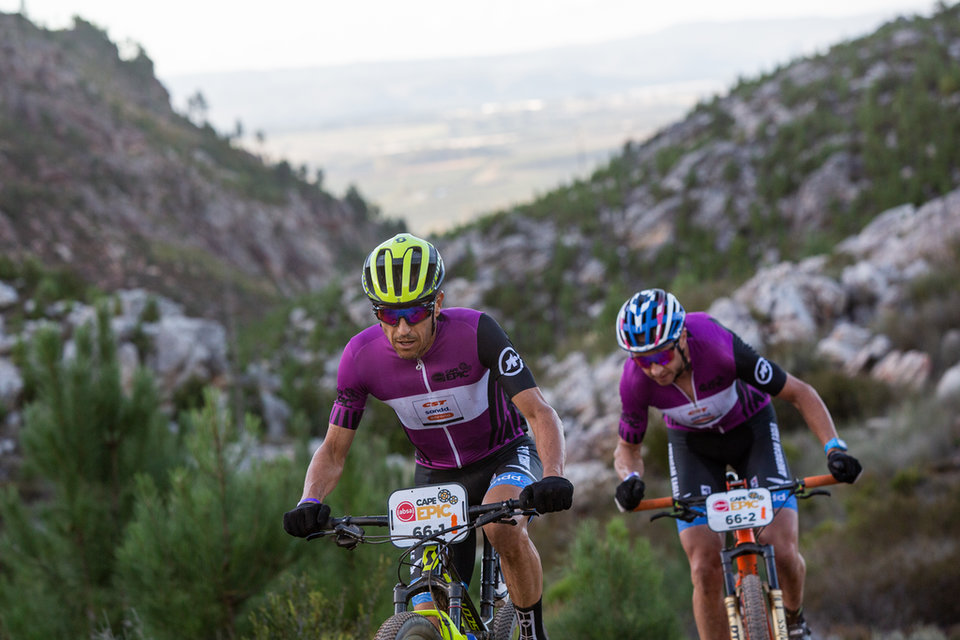 Bart Brentjens and Abraao Azevedo during stage 5 of the 2019 Absa Cape Epic
It seems highly unlikely that Bucher will roll back the clock and win an elite men's title. Therefore, the only man able to complete the set of possible Absa Cape Epic titles is Brentjens. Though it would take a lot for the highly competitive owner of the CST PostNL Bafang UCI XCO team to race in the Virgin Active Mixed Category. That said, he does have three ready made partners, in his team riders Mariske Strauss, Yana Belomoina and Anne Tauber.
Departing from baseless speculation… Along with the late bloomers of competitive sport, the Grand Masters category attracts a host of mountain bikers who, at 50 plus, are not yet ready to relinquish their racing instincts. Brentjens is the king of this category of course. But he is by no means the only one.
South Africa's former road racing champion, Andrew McClean is a Grand Masters category winner and a double Dimension Data Masters champion. In fact, he has become one of the most recognisable faces at the Absa Cape Epic, due in no small part to his hosting of Super Cycling for many years. A former partner of his exceeds even McClean's fame in South Africa.
The Grand Masters category attracts a host of mountain bikers who, at 50 plus, are not yet ready to relinquish their racing instincts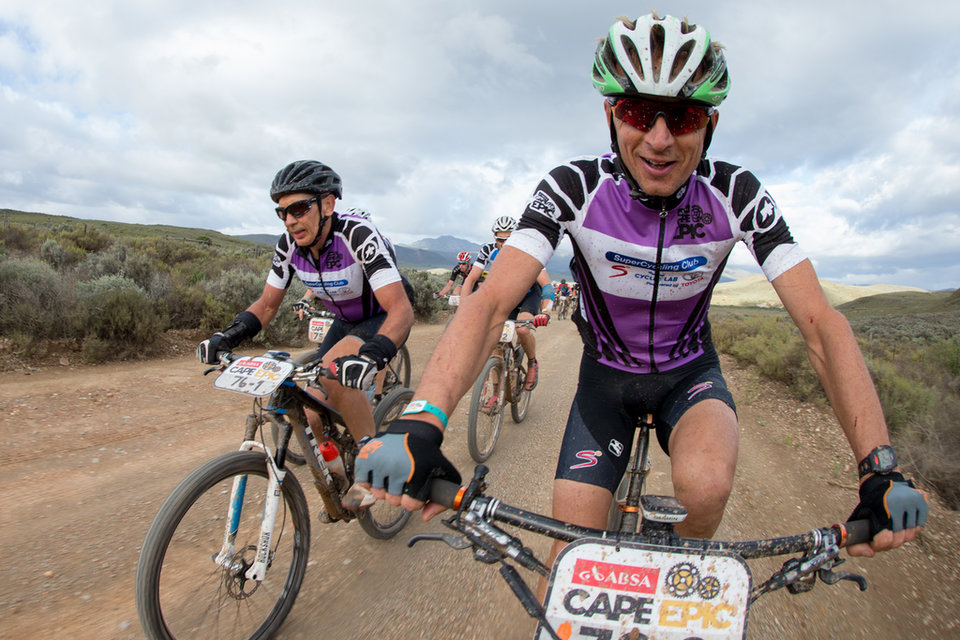 Heinz Zoerweg (right) and Andrew Mclean (left) of Team Cycle Lab Toyota maintain their lead in the grand-masters category during stage 3 of the 2014 Absa Cape Epic
Best known for his drop goal in 1995, before Brentjens's Olympic gold and even further B.T.P. (Before Tom Pidcock), Joel Stransky is no stranger to the biggest stage. Despite having the cool head to win South Africa its first Rugby World Cup, he has had an infamous moment of nerves at the Absa Cape Epic. The 2017 race is one the former fly half is eager not to talk about, having crashed out inside the first 10-kilometres. He and McClean did make up for that the following year however. In 2018 the pair raced to third in the Grand Masters category.
To date that is the best result of a former Springbok rugby player in the Absa Cape Epic. Inspiration for the younger generation of retired rugby players turned mountain bikers. The pop culture wisdom is that it takes 10 000 hours to master a skill, which gives team Land Rover's Kyle Brown a good chance to beat that result in 16 years' time; when he turns 50.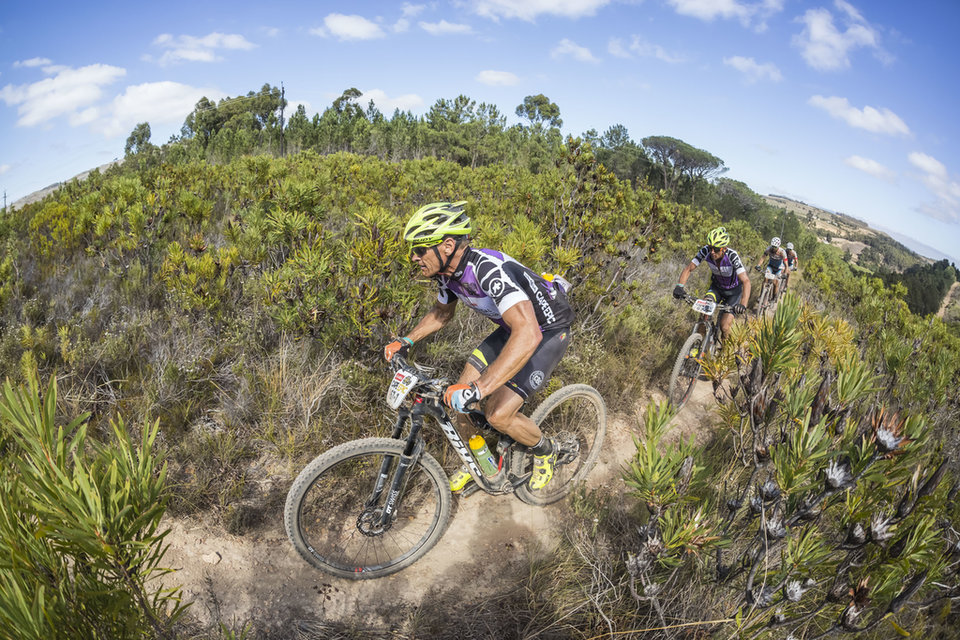 Barti Bucher and Heinz Zoerweg during stage 4 of the 2017 Absa Cape Epic Mountain Bike stage race
The grand masters of mountain biking are not all former professional off-road cyclists. They hail from all walks of life, though they do tend to have a rich sporting pedigree. The key, it appears, is that they have all put in the time and remained exceptionally dedicated over the years. Dedicated to exercising, or perhaps exorcising, their competitive instincts.
Andrew Mclean and Joel Stransky of team Cycle Lab KTM during stage 3 of the 2018 Absa Cape Epic