Fuelling your
ultimate
In a race as physically demanding as the Absa Cape Epic, nothing can be left up to chance. Preparation, both mental & physical is key. That is why it is important to fuel up with the right supplements that have been specifically designed to meet the challenges of the race and that have stood the test of time.
To those who have taken the journey, and even to those that have not, the idea of the Cape Epic is an intimidating one. Taking part in 8 days of mountain bike racing covering hundreds of kilometres through rugged and mountainous terrain is not an achievement that comes easily. It goes without saying that months of preparation is required in order to even attempt such a feat. Success calls on rigorous and disciplined training spanning over many months to strengthen the body and to fortify the mind.
Pushing your body to the limit has great benefits, but none can dispute the fact the efforts take their toll on the body, if special care and recovery isn't called on. With this in mind, the question remains, "How do you prepare and care for your body while putting so much strain on your energy systems and how do you actually create a practical and on-the-go nutrition strategy?"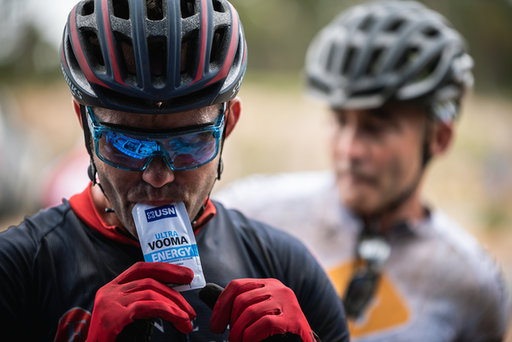 Gels often form a key part of a nutrition strategy, but it is important to know how your body reacts before you reach for one
USN, Official Sports Nutrition partner to the Absa Cape Epic recommends keeping it simple by ticking the BEFORE, DURING & AFTER BOXES during training and race days:
It is important to ensure that your body is loaded up on healthy fats, minerals, electrolytes, phosphates, fluid & glycogen. The biggest mistake a rider can make is to think that race-day nutrition starts on the day of the race. Your body needs 3 -5 days of the right nutrients to replenish its energy stores and get the correct balance of minerals and fluids to avoid cramps. This can be achieved by eating the right foods in the right amounts and by simply taking the right supplements to add to your nutrition. Here is what we recommend:
This phosphate rich and antacid loaded tablet ensures that lactic acid and muscle acidity is postponed and minimised, reducing the risk of cramps and ensuring the right electrolyte balance. The loading phase with Cramp Block can start 3-5 days before the event.
This glycogen-rich, smart carb endurance & medium chain fat drink will provide your body with all the necessary nutrients to replenish energy stores. The lactate buffer system adds an extra layer of defence against cramps and early-onset muscle fatigue. Epic Pro contains 500 mg vitamin C per serving, which is an important antioxidant that removes free radicals & protects cells against oxidative damage caused by intense and prolonged physical activity. This all-in-one ultra-endurance drink can cover all 3 of the bases. Pre, intra and post event nutrition.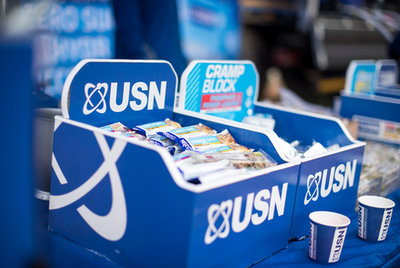 USN's Energy Oats bars and Cramp Blocks have saved many riders' stage during the Absa Cape Epic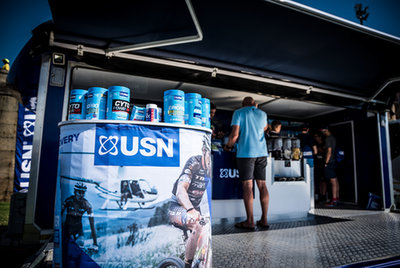 Cyto Power HP and Epic Pro are two of USN's most popular supplements for use both before and during the Absa Cape Epic
Intra-race or intra-workout nutrition is important for 2 reasons – sustained energy and performance and to kickstart the recovery process early. Do not make the mistake in thinking that recovery only begins once you've crossed the finish line.
This product does not necessarily contain an energy value but is packed with rehydrating minerals and electrolytes to ensure an adequate and ideal fluid balance in the body. Consuming large amounts of water carries the risk of further diluting already strained electrolyte & mineral levels. That is why this lightly flavoured phosphate & electrolyte drink is crucial to any endurance athlete's arsenal. It also contains l-glutamine to kick-start the battle against stiffness & soreness.
Cyto Power HP delivers explosive energy, designed to get the most out of your body during high intensity training and racing sessions. This is a high-energy drink that contains caffeine and performance nutrients to hydrate during your activity. The specific performance formulation of Cyto Power HP makes it ideal for late in the stage as it provides the fast and effective energy and performance benefits of caffeine.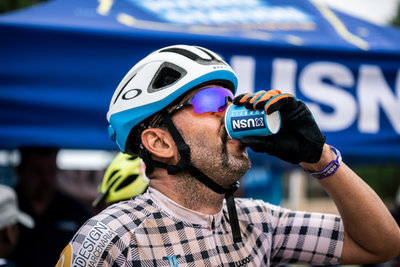 You'll find a wide range of USN products available at Absa Cape Epic waterpoints; we'd recommend Zero Sugar Hydrator or Cyto Power HP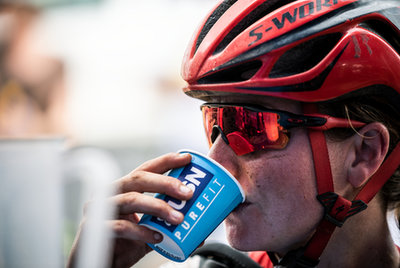 Correct in-race fuelling will help get you to the line and help you be ready for the next day's stage
After demanding so much from your body, it is crucial to follow the correct post-stage or post-training protocols to ensure that you recover as soon as possible and minimise any damage that may have been caused by the massive amount of strain your body has experienced. Your body requires macro- and micro-nutrients to speed up protein synthesis and muscle recovery, to replenish glycogen stores and to restore the correct fluid balances.
Pro Recover accelerates the body's recovery process after prolonged physical activity. It is packed with high amounts of both high & low GI carbs to replenish glycogen stores and to reduce the feeling of "depleted-ness". Added protein ensures that the microscopic tears in muscle heal quicker and that any damaged muscles are repaired effectively through increased protein synthesis. The final key factor of this well-rounded recovery enhancer is the mineral, electrolyte, antioxidant and phosphate stack ensuring that the right fluid balance is restored & to remove free radicals to minimize any risk of prolonged dehydration symptoms.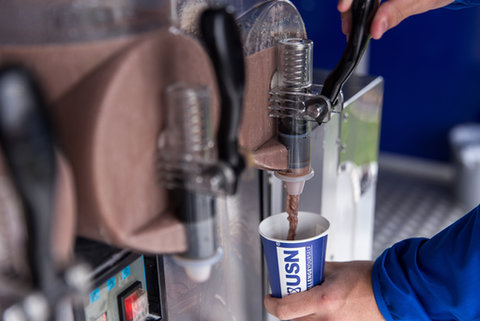 USN Pro Recover is the perfect way to recover after a demanding Absa Cape Epic stage thanks to its high carb and protein mix
Now that you know what to do, go out and get it done.
Good luck from
Team USN South Africa!