The Absa Cape Epic has a great ability to create and even recreate rivalries. The 2022 event will see the gold and silver medal winners from the Atlanta Olympic Games, in 1996, go head-to-head.
Bart Brentjens is a legend of the Absa Cape Epic. He has notched up 15 finishes and 7 category wins over the years. In 2021 he pulled clear of Barti Bucher as the rider with the most category wins when he added a second Grand Masters title to his collection of 4 NTT Masters and 1 elite men's overall victories. The only thing more impressive than the Dutch rider's list of wins is his continued desire for mountain biking success.
Thomas Frischknecht's formidable competitive drive has mellowed with age, meanwhile. Or at least that's the impression one gets from the outside. Yet a direct face off with an old rival has a way of igniting all those dormant racing instincts. Though Frischi, as he is affectionately known, is at the 2022 Absa Cape Epic with the primary goal of aiding Nino Schurter in joining the 3-time winner's club.
If anyone can look after themselves it's the 9-time XCO World Champion, though. So Schurter is unlikely to require much input from Frischknecht during the race. He will thus be able to focus on adding an Absa Cape Epic Grand Masters title to his palmarès. A palmarès which already contains a Mixed crown along with his Olympic silver medal.
A direct face off with an old rival has a way of igniting all those dormant racing instincts.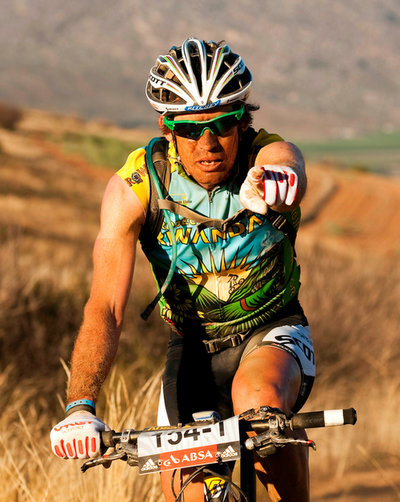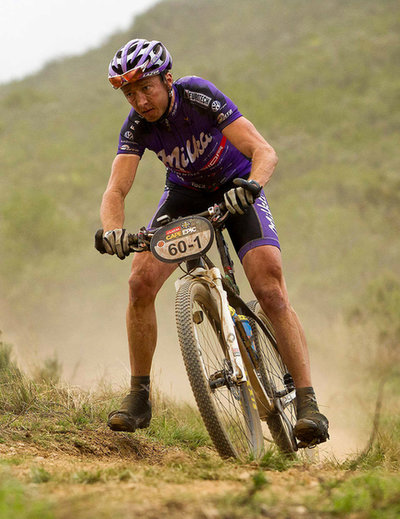 The man who won gold in Atlanta, was, like Frischknecht, one of the early heroes of the sport. When mountain biking was added to the Olympic schedule for the 1996 games, the sport, which had been relatively niche and alternative, entered the mainstream; since then, the sport has grown from strength-to-strength and found a global mass-participation appeal beyond elite racing.
Like IRONMAN triathlons mountain bike stage races challenge regular people to be the best athletes they possibly can be. And age-group competitions allow individuals to challenge not only themselves but also to compare their performances with rivals of similar ages. For former professionals this serves as a great opportunity to satiate those competitive urges, which never really go away.
Some are just better at hiding them than others. While others, like Brentjens, remain unapologetically competitive. He enters the Absa Cape Epic to race and makes no bones about it. Though that's not to say he doesn't have a great time while doing so.
In 2022 the men who will be aiding Brentjens and Frischknecht in the resumption of their rivalry are Abraao Azevedo and Urs Gerig. Azevedo has now ridden 7 Absa Cape Epics, 6 with Brentjens. Together they have won 4 category titles, including the 2019 Grand Masters competition. In fact, their partnership came about after Azevedo beat Brentjens to the 2013 Masters title, with Nico Pfitzenmaier.
Gerig, for his part will be teaming up with Frischknecht at the Absa Cape Epic for the sixth time. The pair have only ever raced in the NTT Masters competition together, with a best category result of fifth (in 2011, 2013 and 2019). 2022 is thus a good opportunity to improve on that record and add the Absa Cape Epic Grand Masters title to their list of achievements.
The title may not be nearly as valuable as an Olympic gold medal. But it will provide some newer material for bragging rights, especially when Brentjens and Frischnecht's CST PostNL Bafang and SCOTT-SRAM teams go head-to-head in the UCI World Cup races later in the season. The results their riders achieve then will probably settle the scores, but a personal victory now could well ease the sting of a team defeat later.
Sculptor, Guy du Toit's inspiration when creating the trophy for the winners of the Grand Masters category was to envelope himself in the ethos and experience of riders over 50 years old: mastery, wisdom, dignity and intellect and inner strength. Du Toit, himself in his late 50s, has created a timeless trophy that speaks to the past, future and present of those who compete for it.
The trophy is a wheel, or a circle, with a cycle spoor running deep on the outside, with a texture that celebrates the Western Cape landscape. The choice of the circle was informed by the fact that the dot is one of the most potent design elements and is endless, which is suggestive of the Grand Master's journey. The circle functions as a lens, looking both back at that which has gone before and that which is to come.
The trophy is cast in bronze and has, appropriately enough for the Grand Masters, an antique patina.