Also known as "Die Paarl" (the pearl), the town takes its name from the rounded granite domes against which it nudges. Along with Stellenbosch and Franschhoek, it forms a triumvirate of "grand cru" wine regions.
This town gets its name from the light of the sun rising over the Great Drakenstein Mountains setting the domed, dew-covered rocks of Paarl Mountain scintillating like monolithic pearls.
The area, a designated wine region of origin (or appellation], was one of three settled by French Huguenots fleeing religious persecution in France in the 1680s: the others being Stellenbosch and Franschhoek. They brought with them not only agricultural know-how to this then-struggling colonial backwater, but also the vine stock that so invigorated our local wine culture – Dutch wine not being widely celebrated.
Paarl is home to many of award-winning wines
Both hikers and mountain bikers lap up the granitic mountain; it's rough in places but there is no dedicated technical single track. To access the mountain take Jan Phillips (a local wagon maker of yore) Mountain Road out of town. It's an 11km trip one way, and the same back again. A detour will take you to the Afrikaans Taal (language) Monument, if that grabs you. Another option is the Hero Adventure trail network on Rhebokskloof private wine estate.
Slightly further afield, in those enticing mountains, there are hiking trails ranging from an hour to several days. Day walks can be done from Bains Kloof and Du Toits Kloof mountain passes, the best being various day walks to waterfalls such as Krom River Kloof (gorge), Donker Kloof (dark gorge), up Elands Pad or the Tweede Tol river valleys.
Both hikers and mountain bikers lap up the granitic mountain; it's rough in places but there is no dedicated technical singletrack.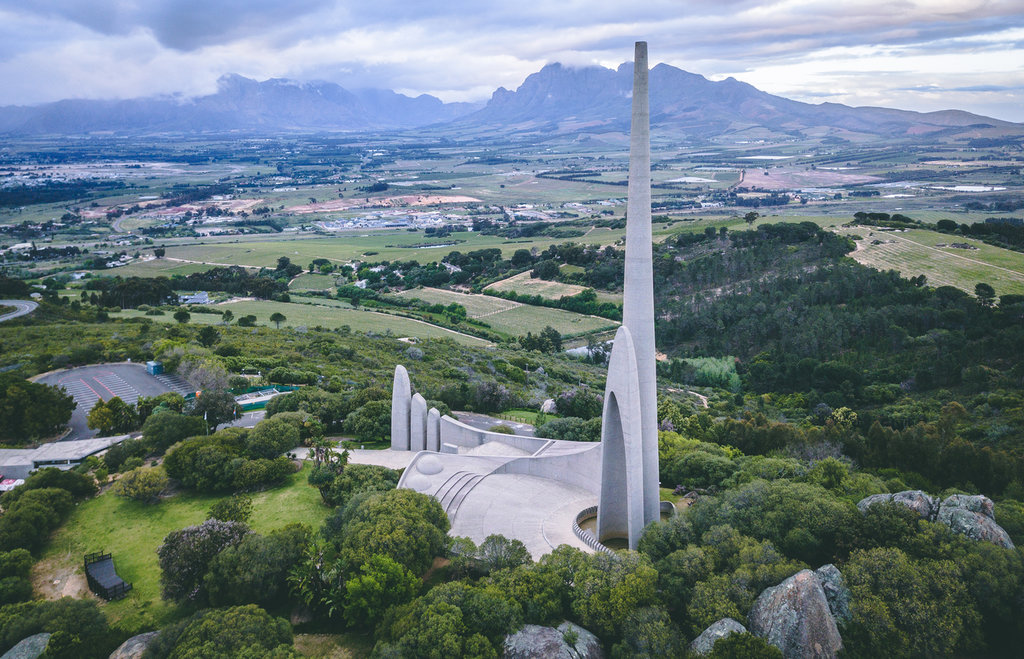 The Afrikaans Taal Monument stands tall just outside Paarl's town centre
Paarl is the third oldest town in South Africa, after Cape Town and Stellenbosch, with numerous historic wine estates including Plaisir de Merle, Babylonstoren, Fairview, Landskroon and Zandijk (kosher), as well as being the home of two large producers Nederburg and KWV cellars. For a more modern take on viniculture, Spice Route offers not only world class boutique wines, but artisanal chocolate, beer and even biltong makers.
In fact, for imbibers of things other than wine, there is a number of craft beer venues in and around town. The rural-industrial Berg River Brewery is worth a visit for the labels alone. For a bit of a jol (South Africanese for a good time), the Bossa Nova Good Times Bar in Main Street will at least provide the fuel for a good evening out.
Paarl is not among the recognised foodie destinations of the region: your safest bet here, as is the case across the Cape winelands, is to visit one of many wine estates that offer meals. Some, like Babylonstoren and Spice Route, have celebrity-chef kitchens, while others serve up chacuterie platters, typical "Boerekos" (local farm-style food) or Cape-Malay cuisine. (The "eatout" web page gives other ideas for decent dining).
Nederburg is one of many beautiful stops on offer in Paarl
In winter (when the water is high) the Berg River – venue of the multi-day Berg River Canoe Marathon – offers challenging canoeing prospects, while some of the smaller rivers coming out the mountains promise more challenging white-water kayaking.
It was at nearby Victor Vester Prison, that Nelson Rolihlahla Mandela was finally released after 27 years of incarceration. It is still a working prison, so the only thing of interest to see is a statue of the great man. But something to contemplate is the fact that, were it not for this man and that moment, it is unlikely any of us would be here enjoying ourselves.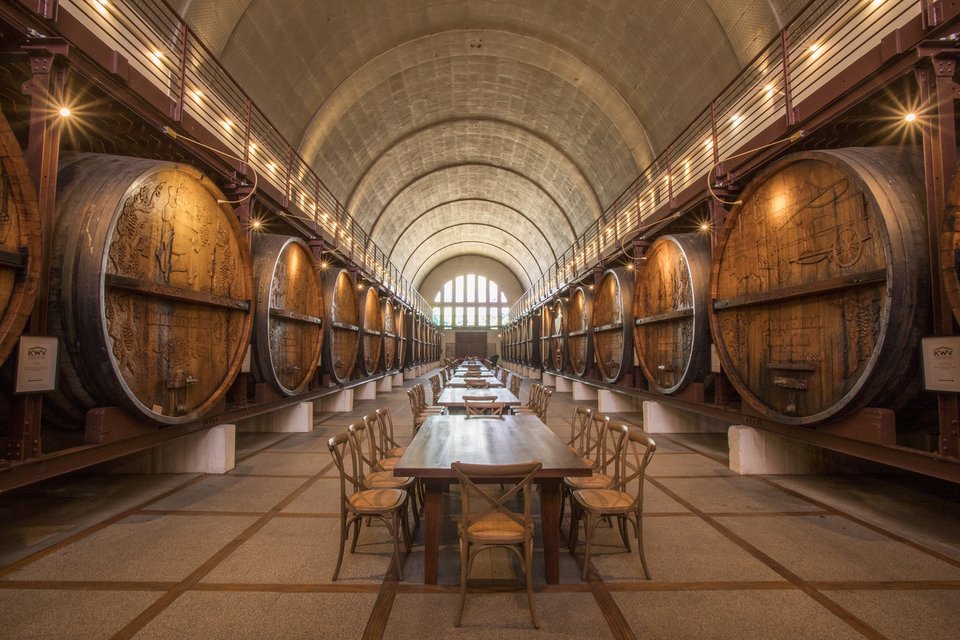 The Cathedral Cellar is the heart of KWV, and home to its range of storytelling vats
Photos courtesy: Paarl Wine and Tourism