The secrets behind Sabina Compassi's perfect finishing streaks
There's a rare group of dedicated riders who return to the Absa Cape Epic, year after year. Sabina Compassi has competed in eight and, impressively, has finished all eight. Even more unusual is that she's finished them all with her partner. For four of those editions, she's placed in the top ten.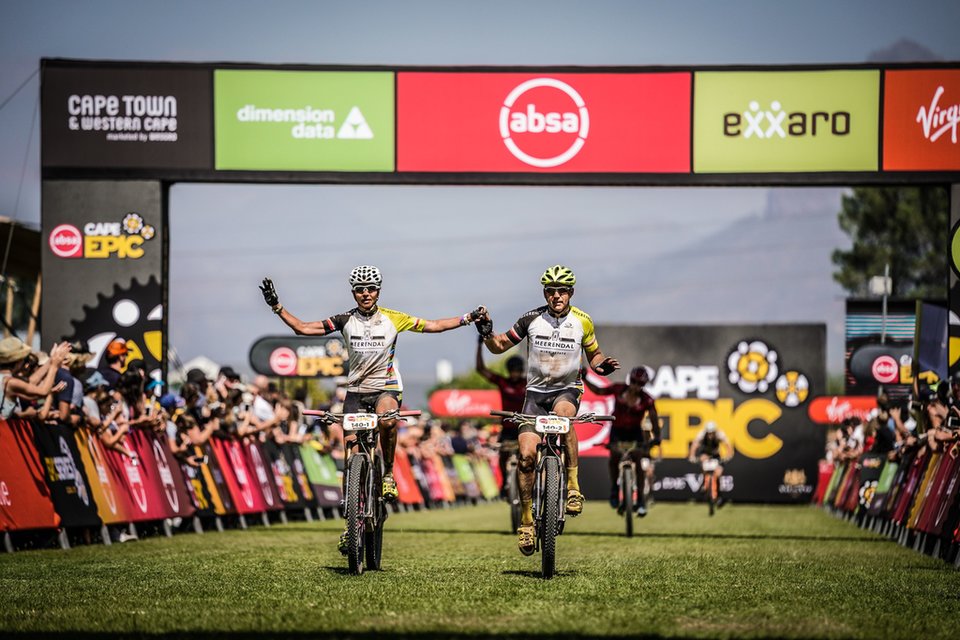 Also, each year she competes in her home race – the SPAR Swiss Epic. Gaining status as a 'Last Ibex' she's finished every one of them since its inception in 2014 (in 2016 she had to continue solo after her partner broke his leg in the Prologue). She's also never been out of the top 10.
Furthermore, she is a privateer who balances mountain bike stage racing with leading a quality assurance team in an industrial pharmaceuticals company, developing and manufacturing complex molecules for breakthrough treatments.
But beneath the surface of perfection lies a series of mistakes and lessons learned – she's human, just with a remarkable ability to adapt and thrive. Here are some of her secrets to success that we gleaned after a conversation with the 56-year-old Grand Masters podium contender from Zug:
Take on a challenge you think you can't complete – just start
"I always did some sport at school – gymnastics, skiing, windsurfing, running. I was a good uphill runner, but not the downhills. So, I tried mountain biking – the downhills are easier and more fun! A friend once told me about 'a cool race starting in Austria and ending in Lake Garda'. I knew the beautiful lake of course from my windsurfing days so I got excited, even though I had no idea what the actual event would entail. I said, 'yes we're going to do this.'"
Don't get discouraged the first time out
"My friend and I were really a bad match – she was really good in the downhills but lacked the endurance on the way up and I was the complete opposite. We had a big crash. We didn't do too badly overall, but for the week after the race we said 'never ever again, no racing on the mountain bike ever, we are killing ourselves…' A month later she said 'Sabina…' and I said 'Yolanda…' and we agreed 'okay let's do it again!' The next year we landed on the podium – this how it all started."
Be wary of your strengths
"My training over the years has been an evolution. When I first began, I didn't pay much attention to training at all, I just went for rides. But then I started really training and something caught my attention – that I have pretty good stamina. I started doing more ultra-cycling and other endurance events like the Gigathlon in Switzerland – five disciplines over three to five days, 12 hours a day. I did that for a few years, and I got really very, very slow, and tired. And that's hard to break out of. They say that too much of a good thing can be a bad thing; and it was."
Have a plan and train your weaknesses
"I realised that I should change my training and then I got the coach who knows me very well – Esther Süss [three-time winner of the Absa Cape Epic]. I shifted my focus completely to do more intervals – short sharp efforts, and less volume. I knew that I already have the endurance so I do things in training that I am naturally not good at."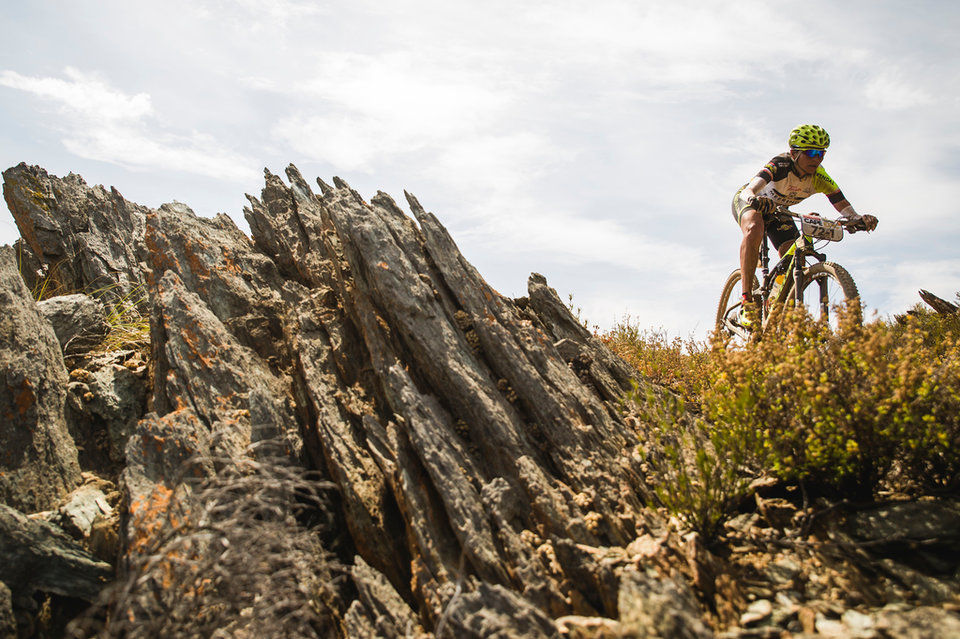 Don't be afraid not to train, and remember to enjoy it
"When I felt I had no energy I stopped training and I just went to the races. The funny thing was that in that next season I won every race I attended. I thought 'Why do I care about training at all?!' Of course, this was the rest, and earning the fruits of labour from previous hard years. I must say if I feel too stressed at work then I just skip the training – there's no point in adding more stress. Your entire system needs to be in balance, and it doesn't help stressing. I just enjoy it – I get home, I get on my bike and I'm so glad I'm riding."
Always find new challenges
"I challenge myself every year in every aspect and try to make training an experience for the body. Mountain biking has physical and mental demands – it's being able to make fast decisions and reacting immediately. There are many mental exercises you can do to improve that and it's amazing to see the effects. I have a football with big letters small letters, numbers and symbols drawn on it. I get somebody to throw the ball, I jump up and catch it and shout the letter I see. It sounds easy but it is not easy at all! Either you forget to catch the ball, or you forget to jump or forget to say anything…simple, but simple is often best."
Apply what you know already
"I am an industrial pharmacist working in quality assurance – we are about to bring onto the market the very first treatment for an (until now) untreatable disease. The molecule is complex, and manufacturing is very challenging and so is quality consistency. I need to make judgement calls all the time – we're pressed for time and there's lots of opinions floating around so I've got to differentiate what is opinion and what is fact and come to a structured, informed, and ethical decision. There's improvement needed if it's not perfect – what went wrong, what's the root cause, then a plan on making it better. So, there are similarities between work and another imperfect and very dynamic multidimensional process, like preparing yourself for a race. During the long time that race prep takes, things go wrong. You get sick, you can't do that big training week so how do you adapt and make up for it. What I learn from one aspect of my life I use in preparation – the one helps the other."
For equipment, choose durability over weight
"I think the most important thing is to have a bike that you feel comfortable on and you've been riding for a while – no changes. I made this mistake and there were stressful moments, but I was lucky. Parts should be robust so no really lightweight things; just proven and simple. I finished every Epic Series race I rode, but I must say I didn't finish without problems – I always had issues and often it was my fault because I opted for the very light things, and these were not robust enough. Get strong tyres and spokes. Especially for the Absa Cape Epic."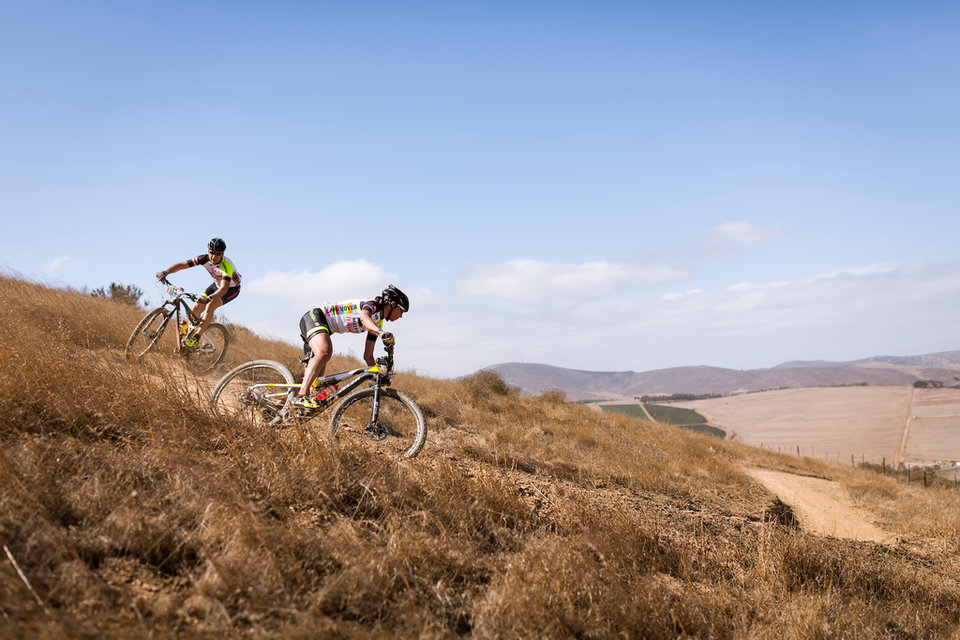 Pick a partner you like
"I am lucky to have Paul, who has finished seven of the eight Absa Cape Epics with me. He is great for a very mentally tough race because he's really a calm person and it takes away all that the stress that you don't need. He's my life partner, too. When you are choosing a new partner, trust your gut – you must like the person. There will always be issues, of course, it's several intense days in a row. So, you really need to like that person enough to be willing to resolve the issues."
You learn more from your differences than your similarities
"When I rode with Cathy in 2011 it was different from with Paul. She was a former professional and a sprinter and I'm really an endurance athlete. Personality wise she was also very competitive and me not so much. But after a few days, things levelled out. What helped was remembering a race I did with another a former professional rider. She was also sprinter – very tall and long climbs were hard for her. After day 1 we were in the leaders' jerseys but on the third day the real problems came. There was a long climb and she was falling behind and I didn't know what to do, to wait or whether she would catch me – every decision I made was wrong. We also crashed twice! That evening, her husband, who was supporting us, said 'OK let's all talk. Sabina what do you think you can you do for her?' I said that I had no idea what I could do for her, really. So he then asked his wife what she could do for me. She said 'Ride the long climb next to me, just half a wheel in front.' I thought this would be totally demotivating but she said 'no this motivates me!' She then said 'I cannot imagine how somebody who can climb that fast is at a complete loss when going down – you use way too big a gear on the descents.' So the next day I rode up in position and going down she shouted to me 'spin your legs, spin your legs!' Before, I was digging my own hole in the ground, over-geared. Without this difficulty and incompatibility I would have never have thought of any of this."