Exxaro Jersey Competition
With the choice of bursaries from Curro Holdings or Higher Education Programmes from STADIO for the winning team the 2022 Exxaro Jersey competition is sure to be fiercely contested. Here are the teams to watch…
With riders only being eligible to compete in the Exxaro Special Jersey competition at the Absa Cape Epic until the year they turn 26, there is a natural evolution of the competition. No one rider or team can dominate for too long. They gain experience, win and then age-out. 2022 is a year in which the defending champions have progressed out of the Exxaro Jersey race, which leaves a vacuum for young pretenders to prove themselves in.
Nobody knows what it takes to win the Exxaro Jersey competition better than Phillimon Sebona. The 3-time winner is still tangentially involved in the Exxaro MTB Academy and knows a talented rider when he sees one. "For 2022, mountain biking fans should pay close attention to the Exxaro PwC 1 team of 2021" he advised.
"Tlotlo Mohweledi Selala and Halalisani Njabulo Ndebele are very talented. Tlotlo raced the UCI Marathon World Championships in Elba last year, and turns 21 this year. He has already learnt so much, and will continue to grow as a rider. Hala is 22, and has been working hard in the build-up to the 2022 race. I'm sure they'll do very well," Sebona explained.
No one rider or team can dominate for too long.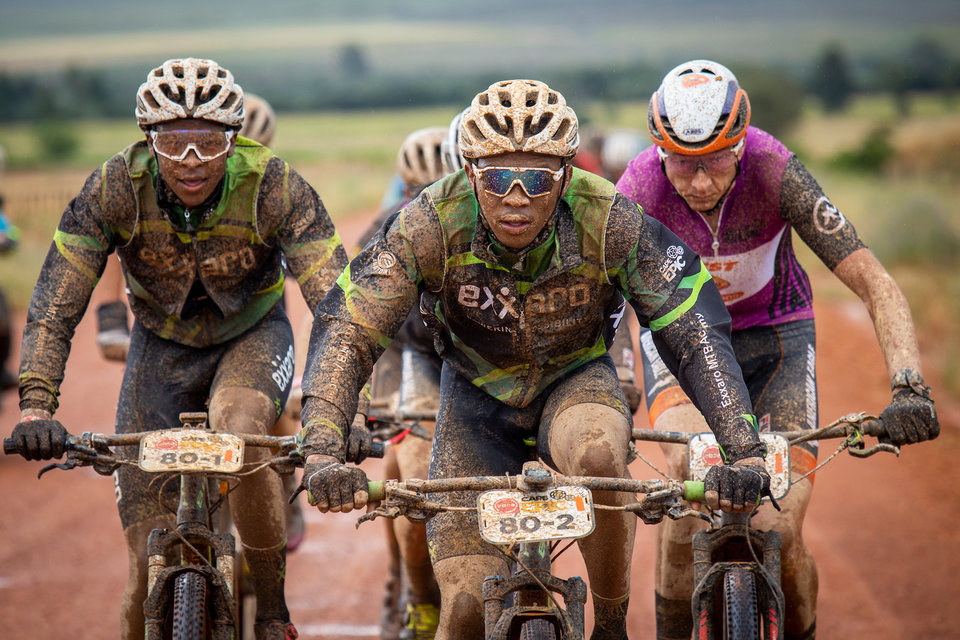 Halalisani Ndebele and Tlotlo Mohweledi Selala
"But the competition will be tough!" Sebona promised. "The FNB Change a Life Academy teams, from KZN, will be very strong, and are still looking for their first Exxaro Jersey title. Fairtree Imperial Cannondale's two best riders have turned 27 and aren't eligible for the competition anymore, but I'm sure they have younger riders who are hungry to follow in Lorenzo [Leroux] and Luyanda [Thobigunya]'s footsteps. They and the songo.info teams always have home-ground advantage. Unlike the Exxaro MTB Academy riders who have to travel down from Gauteng, the Fairtree and songo.info teams can train on the trails the Absa Cape Epic uses. That and the fact that they're accustomed to the Western Cape climate play a big role in the race."
songo.info will be represented by Ntlantla Nonkasa and Zola Ngxakeni at the 2022 race. Both riders graduated from the songo.info programme and have developed into strong riders. Ngxakeni has a wealth of stage race experience and took part in the 2019 Swiss Epic, in Graubünden, alongside Thobigunya. The pair have been racing together already in 2022, riding the Attakwas Extreme and Tankwa Trek events in January and February.
Fairtree Imperial Cannondale have refreshed their line-up for this year, as a result of Thobigunya and Leroux's tilt at the Absa African Jerseys. The Stellenbosch based academy will be represented by Kusaselihle Ngidi and Thembela Lukalo. Ngidi placed third in the competition in 2021, racing for the FNB Change a Life Academy. "They're both youngsters, but are absolute weapons" Fairtree Imperial Cannondale Academy founder Chris Norton revealed. "Both Lihle and Thembela have an Absa Cape Epic under their belts already and that really helps when preparing to race for a jersey. We're aiming for the win, but we'd be happy with a podium place in their first outing as a team."
"They're both youngsters, but are absolute weapons"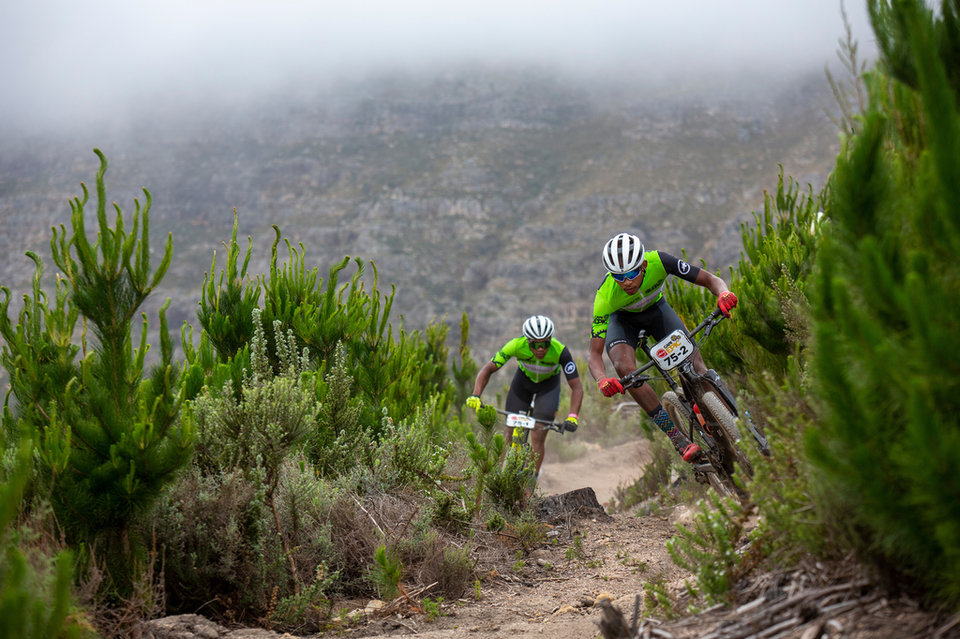 Lorenzo Leroux and Luyanda Thobigunya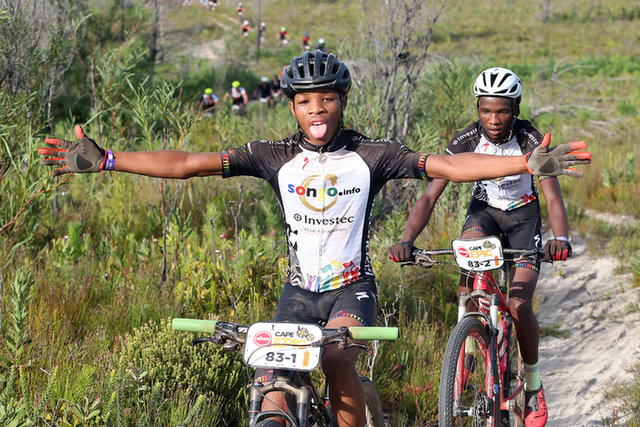 Ntlantla Nonkasa of Investec-Songo 2 enjoying the ride with partner Lwazi Ntsakaza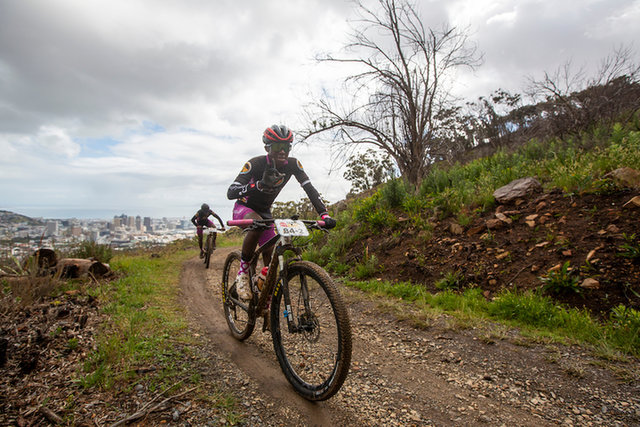 Nkululeko Pewa and Kusaselihle Ngidi during the Prologue of the 2021 Absa Cape Epic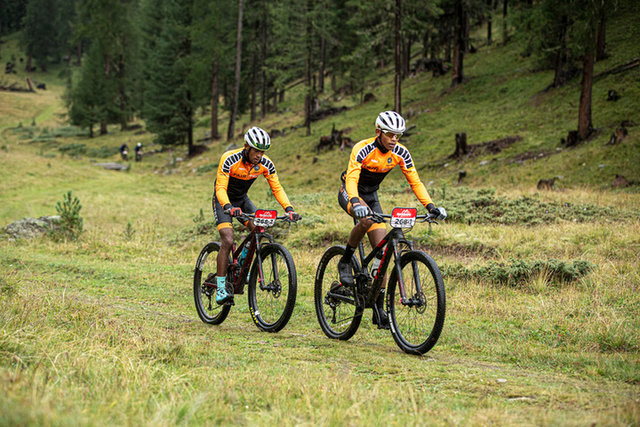 Luyanda Thobigunya and Zola Ngxakeni during Stage 2 of the 2019 Swiss Epic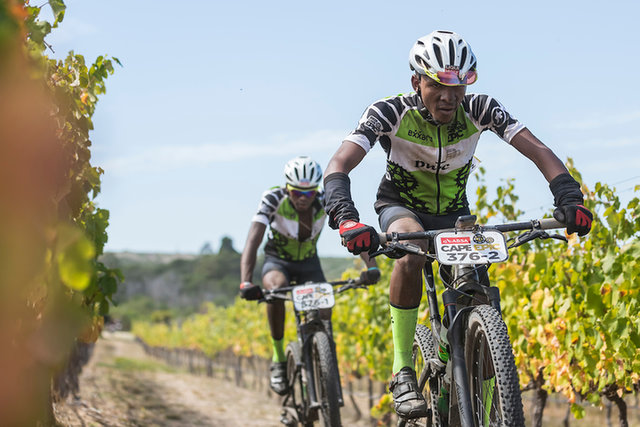 Phillimon Sebona and William Mokgopo during stage 1 of the 2017 Absa Cape Epic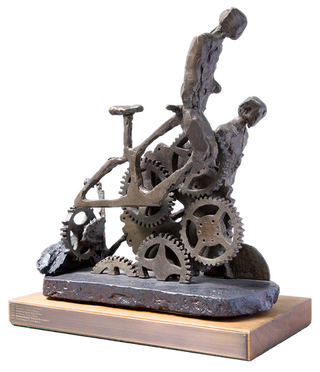 The Exxaro Special Jersey Trophy
Exxaro Resources is a South African mining company which has been the main corporate sponsor of transformation at the Absa Cape Epic, if not in all of South African mountain biking. It is therefore appropriate that its name is enshrined in the trophy that is awarded to the winners of the Exxaro Development special jersey.
Exxaro introduced the special jersey race-within-a-race to the Absa Cape Epic in 2012 and the trophy two years later. Lwandiso Njara, protégé of acclaimed sculptor Angus Taylor, designed the trophy to resemble the transformation and progression of two ordinary young potential stars from the township into dedicated, victorious, mountain bikers. All the materials used in the sculpture were sourced from various Southern African Exxaro mines and include coal, iron ore and titanium. The result is a trophy that weighs in at 9,4kgs and which often gives the winning riders a surprise as they hoist it above their heads at prize giving.