of Untamed Action in Africa
Infinite challenges waiting to be unveiled.
The Absa Cape Epic's route is one of life's ever-changing constants. No two editions, in the race's 19-year history, have been the same and that tradition holds true for the 2022 edition of the Untamed African MTB Race. In 2022, the challenge begins in Lourensford Wine Estate, before traversing the Hottentots Holland Mountains to Elandskloof. After two stages of rugged riding on the trails of Greyton, the race heads towards the mountain biking mecca of Stellenbosch. 681-kilometres and 16 900-metres of climbing after setting off from Lourensford Wine Estate, the Absa Cape Epic reaches Val de Vie Estate where winners will be crowned and spots in The Book of Legend will be claimed. Here is the 2022 route in detail…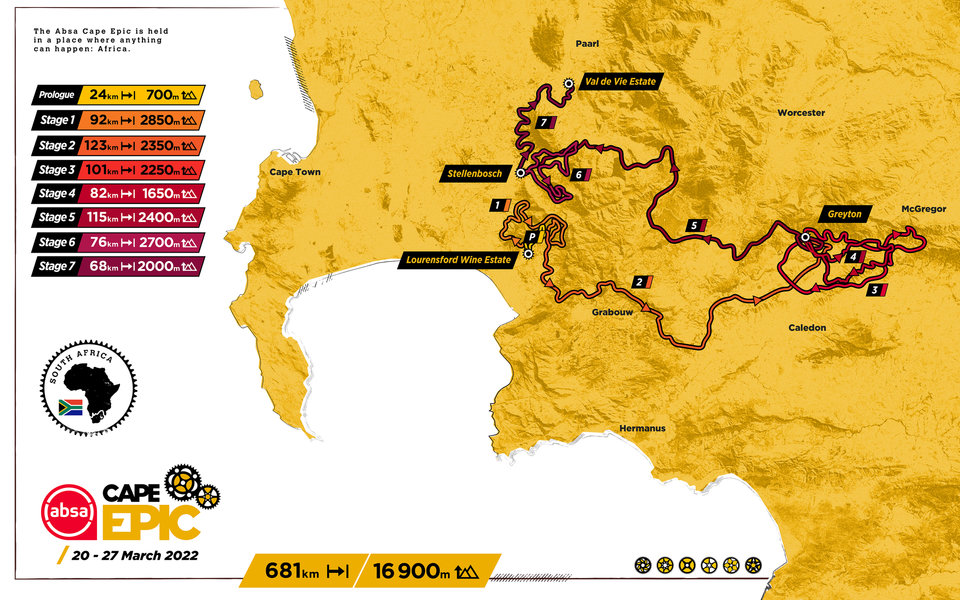 The 2022 Absa Cape Epic boasts 24.78m of climbing per kilometre.