Meerendal hosts
the Prologue
A return to Meerendal
sees the teams out of the chute.
For the first time since 2017, the Absa Cape Epic made a return to Meerendal Wine Estate for the Prologue on Sunday, 19 March. The historic wine farm played a fitting host to the start of the 19th Untamed African MTB Race with iconic Cape Town landmarks Table Mountain and Robben Island, providing a sublime backdrop. As has become customary of the Pinnacle of the Epic Series, provided a chance for amateurs to test their legs and an opportunity for the elite teams to gauge their opponents.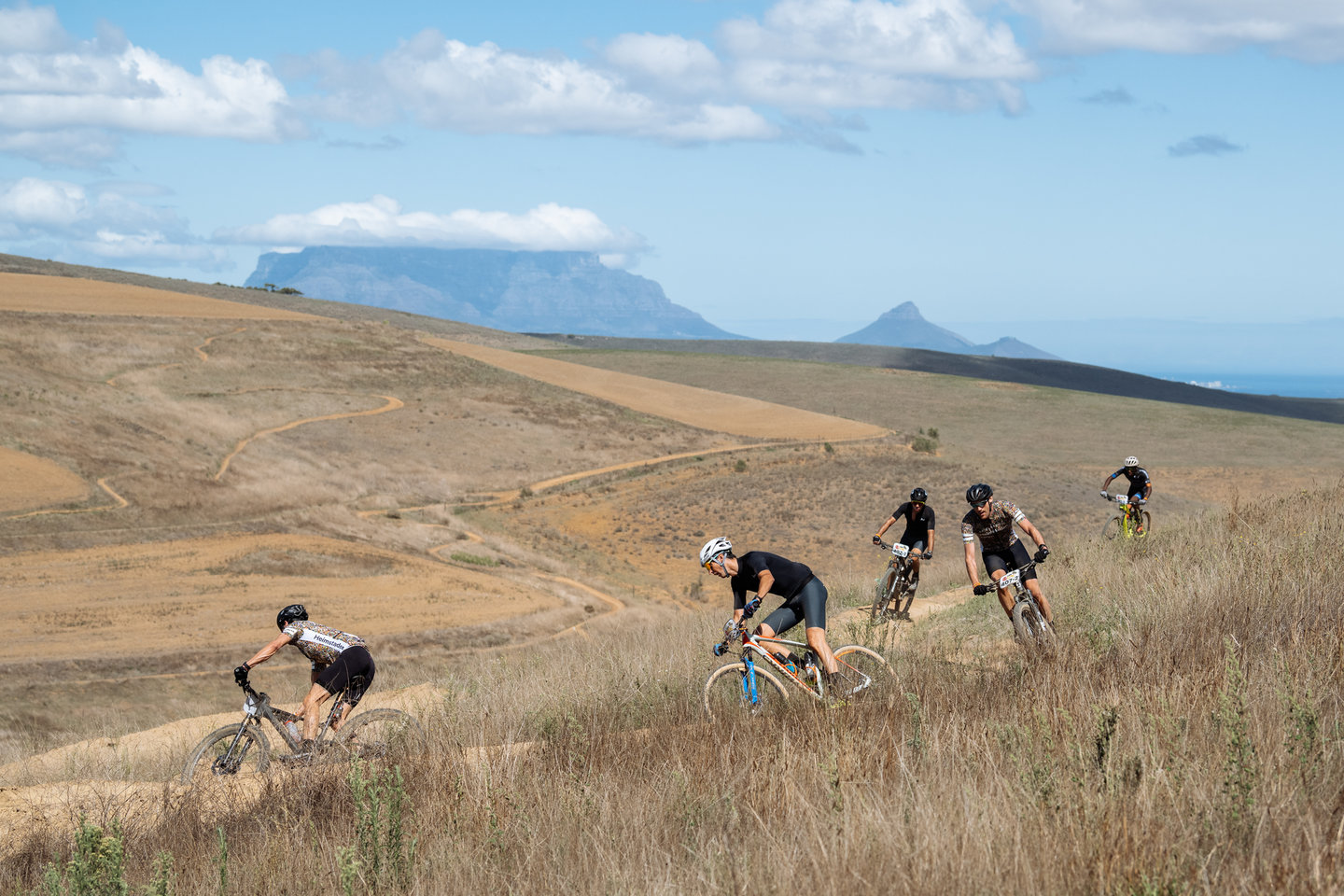 The first challenge of the 648km, 2023 route featured some 750 metres of climbing over the 27kms. A big chunk of that came early as riders went up to the summit of the Dorstberg. From there the route took in the finest of what the extensive Tygerberg MTB Club trail network has to offer including traversing the Fair Cape Loop and Hoogekraal trails. The first riders went off the line at 06:35. A visibly relieved Remofilwe Moeketsi and Thabo Mamatshele (Untamed Love Authentic) finished time of 01:58:47.1 and commented afterward how it took a while to shake off the early pre-race nerves.
It didn't take defending Prologue Champions, local hero Matt Beers and Christopher Blevins (Toyota-Specialized-NinetyOne) to shake off their nerves and they blazed the big climbs and various singletrack descents, including the Toyota Tough on Hoogekraal in a time of 01:03:01 to navigate into the first yellow leader jerseys of the 2023 edition. Multiple cross-country World Champion Nino Schurter, riding with Swiss partner Andri Frischknecht (SCOTT-SRAM MTB Racing) had to settle for second on the day, while 2022 Champions Georg Egger and Lukas Baum (Orbea x Leatt X Speed Company) came in third, 45 seconds off the pace of the stage winners.
In the CM.com Women's category, defending Champion Sofia Gomez Villafane and her new race partner Katerina Nash (NinetyOne-Songo-Specialized) flew home in first ahead of the all-African all-star pairing of Namibia's Vera Looser and Mauritius's Kim le Court (Efficient Infiniti Insure). Amy Wakefield and Candice Lill (e-FORT.net | SeattleCoffeeCo) claimed third on the day.
There was some exciting racing in many of the new age group and amateur categories too, perfectly setting up what is bound to be a big week of racing.