Mud Meddles with
every strategy
A broken chain, a broken rim, a broken dream.
If Stage 5 was a damp affair, then Stage 6 can only be described as a mud bath. "It was wild," one rider put it mildly upon crossing the finish line at Lourensford. The stage not only made history for its treacherous conditions but also for the fact that for the first time in Absa Cape Epic history, an entire stage, outside of a time trial, was hosted in one venue. Despite not crossing a fence, the quality of the trails left no room for compromise. The riding was exceptional throughout, and the challenging 73-kilometre route included sculpted icons like the Lourensford Ultimate as well as the rugged remains of South Africa's first foray into trail building — the Blue Gum Trail.
Riders tackled the route in classic Western Cape cold front conditions. It was cold. It was wet. And, it was windy. For pros and amateurs alike, the wild conditions proved a true testament to what it takes to conquer the Untamed African MTB race.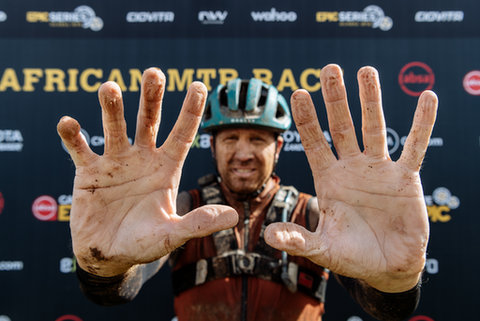 In the Men's category, Matt Beers and Chris Blevins (Toyota-Specialized-NinetyOne) rolled to another stage win and launched themselves into second overall while Nino Schurter and Andri Frischknecht claimed back the yellow Ciovita leader jerseys. The CM.com Women's category was also filled with drama as Kim le Court and Vera Looser (Efficient Infiniti Insure) charged to another stage win and into the orange leader jerseys as Amy Wakefield and Candice Lill (e-FORT. net | SeattleCoffeeCo) dealt with disaster. In short, a day that will live on in memories for years to come.
Indeed, both the Men's and the CM.com Women's races were heavily impacted by mechanical issues for the leading teams. Rain fell throughout the 73km stage, turning climbs into sticky streams of clay and singletrack descents into treacherous mud baths.
Around 33km into the CM.com Women's category race, Wakefield broke the rim on her back wheel after hitting a hole and was forced to ride 8km to the next tech zone without a rear tyre. Up until that point, Wakefield, Lill, Looser and Le Court were riding together comfortably.
The broken rim changed everything and from that moment on, Wakefield and Lill dropped further and further behind, eventually finishing 39 minutes after stage winners Looser and Le Court who rode themselves into the orange leaders jersey and a 25-minute lead going into the final day.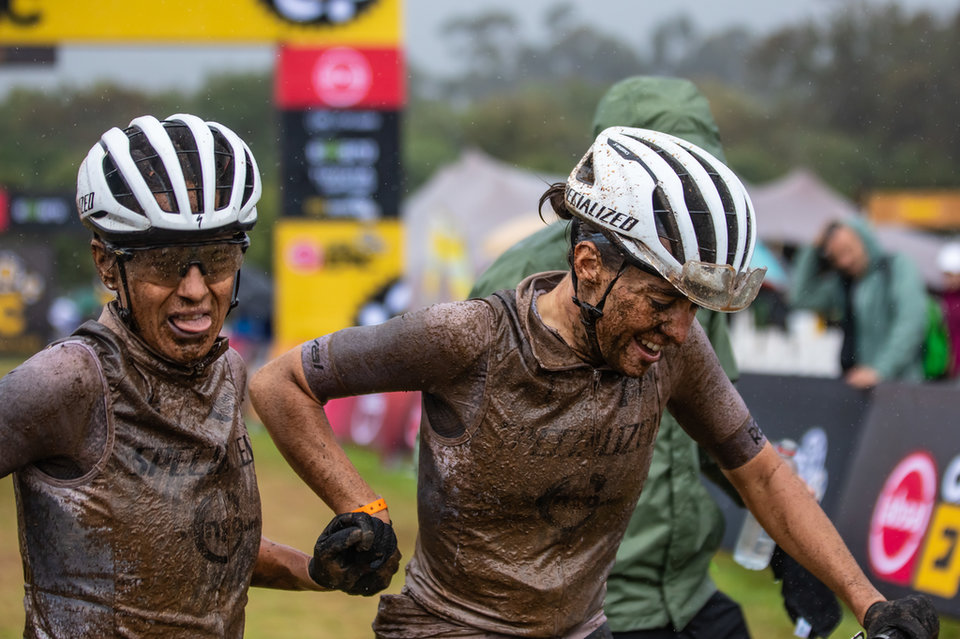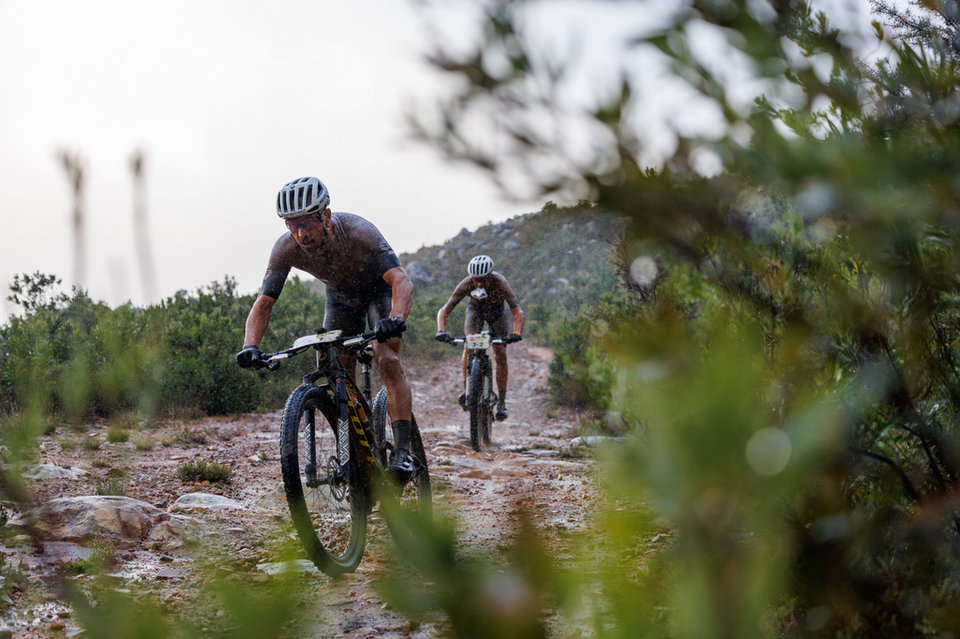 In the Men's race, ORBEA x Leatt x Speed Company also suffered from a mechanical issue around 40km into the stage, causing them to drop off the lead bunch.
Before their mishap, Baum and Egger had been riding at the front of the Stage 6 race with Blevins
and Beers. Those four riders had taken control when Nino Schurter had to drop back to assist the ailing Andri Frischknecht.
Baum and Egger's setback clearly reignited the fire in Frischknecht, though, and he and Schurter were able to race home for second. The time lost by Baum and Egger allowed Schurter and Frischknecht to leapfrog them into the overall lead once again.
Beers and Blevins looked in control throughout the stage though. They dominated the day, looking strong even before Baum and Egger were forced to stop for repairs.
"We did see Lukas and Georg stop," said Blevins. "That's just the Absa Cape Epic, though, anything can happen, especially in the conditions we had today."
Blevins said the key to success in the wet for the team was to stay smooth and stay upright on the bike. "It was just brutal out there. We had the right tyres on but it's so difficult to race in those conditions. It was so muddy and going down the singletrack was incredibly slow."
SCOTT-SRAM MTB Racing's Andri Frischknecht echoed Blevins's comments. "Wow. That was super tough," he said. "I just want to say kudos to everyone who finished that stage because it really was tricky
out there."