The Millars' Tale
David and Fran Millar, ex pro and CEO, tackle the Absa Cape Epic
Brother-sister teams at the Absa Cape Epic are far from unusual, but few run as high a cycling and public profile as Team Millar Time.
David Millar was a familiar face on our television screens for 17 years, a 12-time Grand Tour stage winner, time trial professor and hard man in a hard man's sport. And yet, his sister Fran has had an arguably bigger role in the cycling milieu than her big brother.
"I was CEO of Sky, and then Ineos/Ineos Grenadiers cycling teams until 2020, but I was with them since they started in 2009." Fran grafted her way through the ranks, myriad roles including marketing and PR, heading up internal ethics and 'Winning Behaviours' programmes, heading up the team's financial, operational and governance and a whole lot more culminating in the role that would lead her to even bigger things.
She now heads up one of Team Ineos Grenadiers owner Sir Jim Radcliffe's fashion brands, Belstaff. As CEO of a 100-year-old company that turns over north of a billion rand a year, she is one of the most powerful businesswomen in Britain. And yet, she is here, riding bikes in the African sun, with her big brother. "I can't even compare what we are doing here with the stresses of what I do normally in any shape, way, or form. This is the worst experience of my life by some considerable margin!" She says, with a glint in the eye that confirms the typical British pathos.
"I am loving seeing how hard I can push myself, and how deep I can go. Turns out, really deep and really hard. Jim Radcliffe has a track record of running really long and hard challenges within his group. We are doing a big corporate event in Namibia at the end of May where I will be spending a week running marathons and riding mountain bikes, so I thought this might be great preparation. I get the feeling it might feel like a walk in the park by then."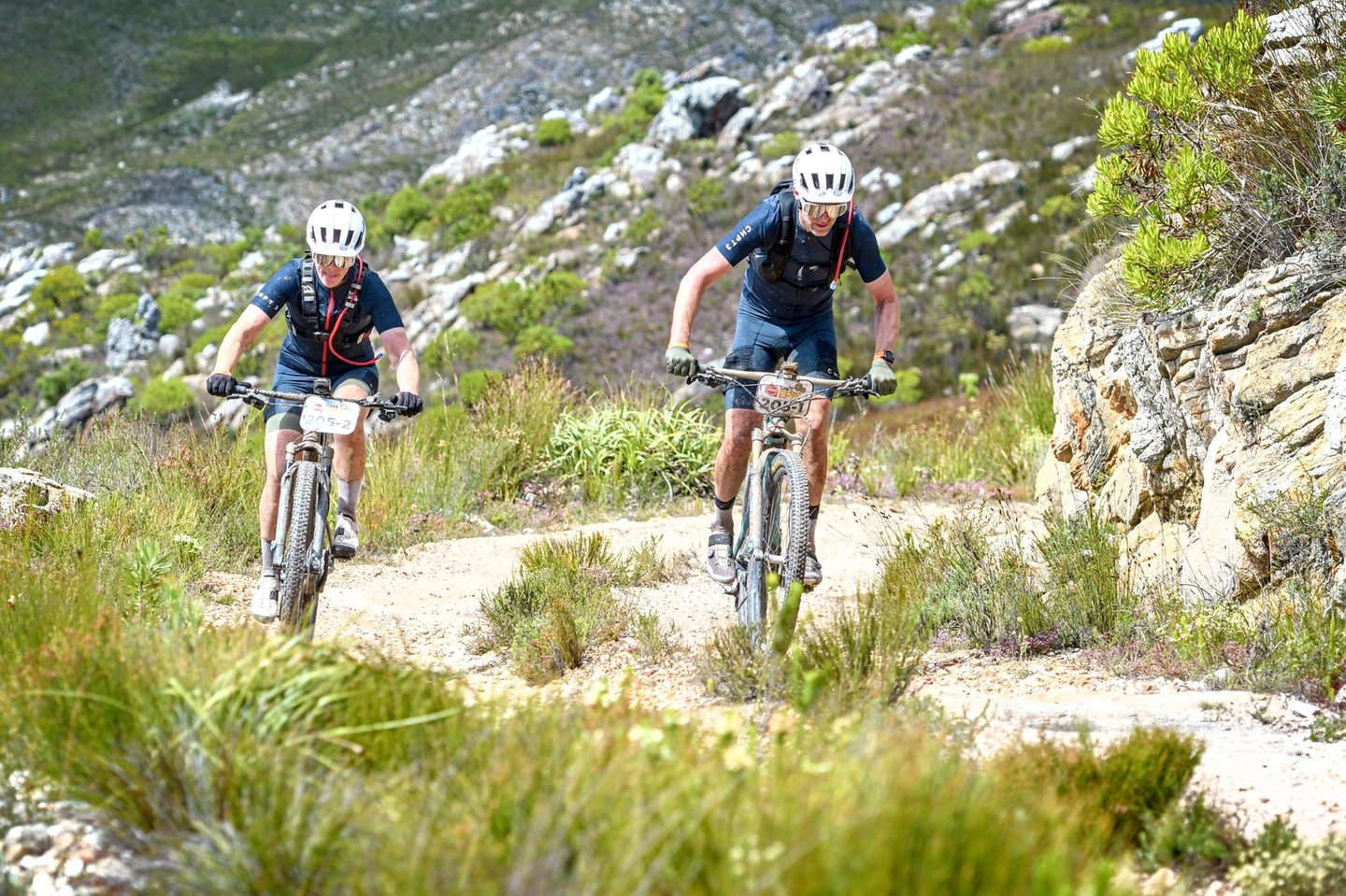 For David, the physical side has been interesting, nearly a decade after retiring from the chaos of the pro peloton. "The Prologue was good fun, and everyone said that was just to lull us into a false sense of security, but I thought nah, surely not. And then on Monday I had an existential crisis and I thought I was gonna die. I am now highly respectful of the race!"
The obvious question is how the Tour de France of Mountain Biking compares with the actual Tour de France. Millar is well placed to make that comparison, with 24 of these three-week monsters - the Tours de France, Italy and Spain - under his belt. "It's just like being in the grupetto in a Grand Tour." The grupetto is the sprinters group that forms on the long mountain stages, the sole aim being making the day's cutoff while the skinny climbers race ahead. "You are just concentrating on just getting through, all of the time. Planning. Calculating. Making sure the cut off is far enough away to manage. Making sure you don't waste energy."
Riding with his little sister has been great. "We've never done anything like this before. I'm not sure we needed any more bonding, and I am not sure we needed to bond quite this much! It's definitely a life experience we will never forget. She has always looked after me, more like a big sister, and here we have both had the chance to look after each other, and make sure we finish."
Not finishing is not an option for Fran, for whom failure would mean a return to sort out unfinished business. Not that the Absa Cape Epic has a chance of overwhelming this powerhouse. How deep is the concentration, the commitment to making it? When asked how many times she has allowed the temptation to check her emails to take hold, a Cheshire-cat grin beams; "I haven't even switched my work phone on since we started. It has been wonderful!"