bursts into life with thrilling Prologue
Explosive mountain bike racing in and around the hills of Durbanville, Cape Town.
Mountain bikers from around the world gathered at Meerendal Wine Estate on Sunday morning to test themselves on the opening demands of the 19th edition of the Absa Cape Epic and against the best the sport has to offer.
As has become tradition, the Absa Cape Epic started with a Prologue - a chance for amateurs to test their legs and an opportunity for the elite teams to gauge their opponents.
The Men's race over the 27km course was won by 2021 Absa Cape Epic Champion Matt Beers and partner Christopher Blevins (Toyota-Specialized-NinetyOne) in a time of 01:03:01.9.
Multiple cross-country World Champion Nino Schurter, riding with Swiss partner Andri Frischknecht (SCOTT-SRAM MTB Racing) had to settle for second on the day, while 2022 Champions Georg Egger and Lukas Baum (Orbea x Leatt X Speed Company) came in third, 45 seconds off the pace of the stage winners.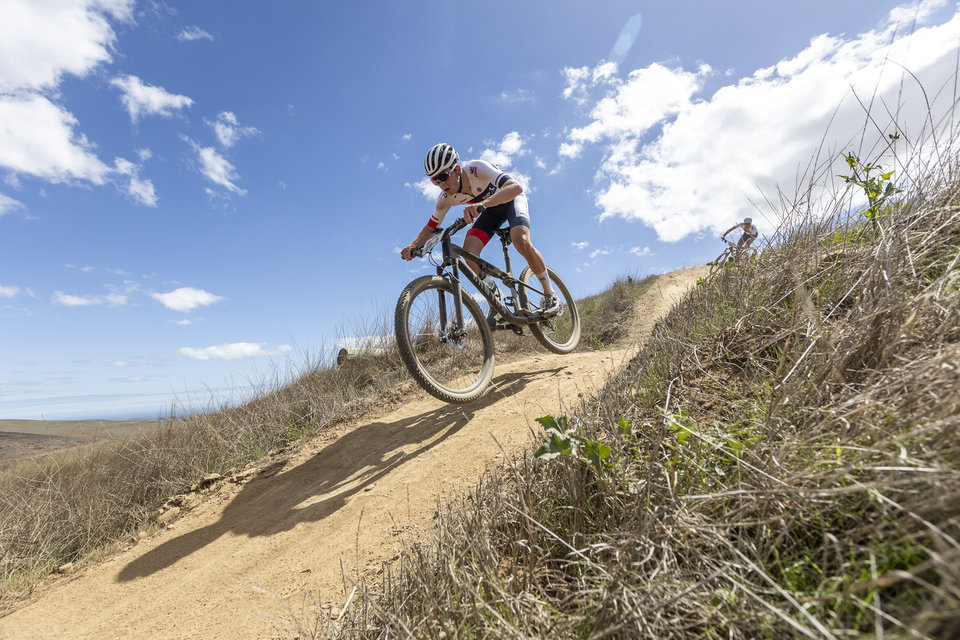 In the CM.com Women's category, defending champ Sofia Gomez Villafane and her new race partner Katerina Nash (NinetyOne-Songo-Specialized) flew home in first ahead of the all-African all-star pairing of Namibia's Vera Looser and Mauritius's Kim le Court (Efficient Infiniti Insure). Amy Wakefield and Candice Lill (e-FORT.net | SeattleCoffeeCo) claimed third on the day.
In the Men's race, Schurter and Frischknecht started with determination and desire, setting a blistering pace over the first 15km. But they were no match for hometown hero Beers and American race partner Blevins.
Beers and Blevins, who started well in 2022 but trailed off when Beers got ill, crushed the second half of the 27km route, descending to the finish faster than any other team on the day. They claimed the 2023 Prologue by a whisker and will start Stage 1 in the famed Epic Series leader jerseys, seven seconds ahead of SCOTT-SRAM MTB Racing.
"He's a horse," said Blevins of his partner Beers. "He should be in a barn with those other animals we saw out there today. He was ripping the flats apart with his power today."
Beers credited Blevins with getting the team over the line in one piece. "We kept it on the limit today and tried not to go over that. Chris knows how to manage me, probably better than I know how to manage myself. We didn't go overboard today and as a team, I think we did a great job."
Beers was bombarded with enthusiastic crowd support, in the Meerendal Wine Estate race village and out on the trails. "It's very special being here at this event and racing on South African soil. I am just a guy who likes riding his bike so the support from the fans is very humbling. It's very special."
Blevins added that while it's nice to start in yellow, the team wouldn't be getting too excited. "It's a long race, so we are not taking anything for granted. We have a lot of racing to do in the next week, so we are going to stay focused and stay resilient."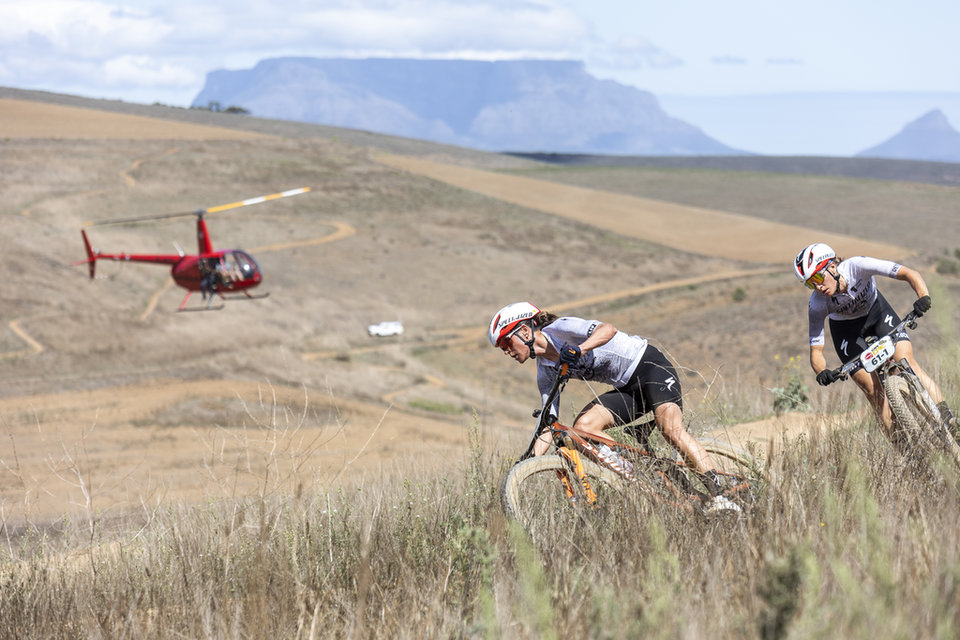 In the CM.Com Women's category, it was also tight amongst the top three teams until Wakefield took a small tumble towards the end, losing vital seconds for herself and teammate Lill. Looser and Le Court looked in fine fettle for their race against the clock, with Le Court in particular smashing her way through the trails of Durbanville.
Ultimately, though, it was Villafane and Nash, riding in her first-ever Absa Cape Epic, who took the top step with a controlled ride of power and elegance. Incredibly, they also lead their category by seven seconds going into Stage 1 of the 2023 Absa Cape Epic.
"That was very exciting," said Nash of her debut Absa Cape Epic experience. "I really enjoy riding with Sofia and today was a great ride for both of us."
Villafane, back to defend her 2022 title, seemingly forgot how wild the Prologue could be. "The start was pretty savage but once we got going, I was really into it - too into it. I got way too excited when we started passing other teams; Kate had to tell me to take it easy and not burn too many matches! It was a super fun day. We pushed hard to the finish and it's a great honour starting Stage 1 in orange."
The battle for overall orange in the CM.com Women's category will be intriguing, with Looser and Le Court both showing excellent form today, while Lill and Wakefield, only 30 seconds back on the overall standings, will come into their own as the days get longer.
"I think the women's race is very equal," said Looser. "It was tough out there, but we went really well today, and we've put ourselves in a good position for the overall."
Le Court added knowingly, "It was a great start for us. But there are longer days to come. Everyone still has a lot of racing ahead of them."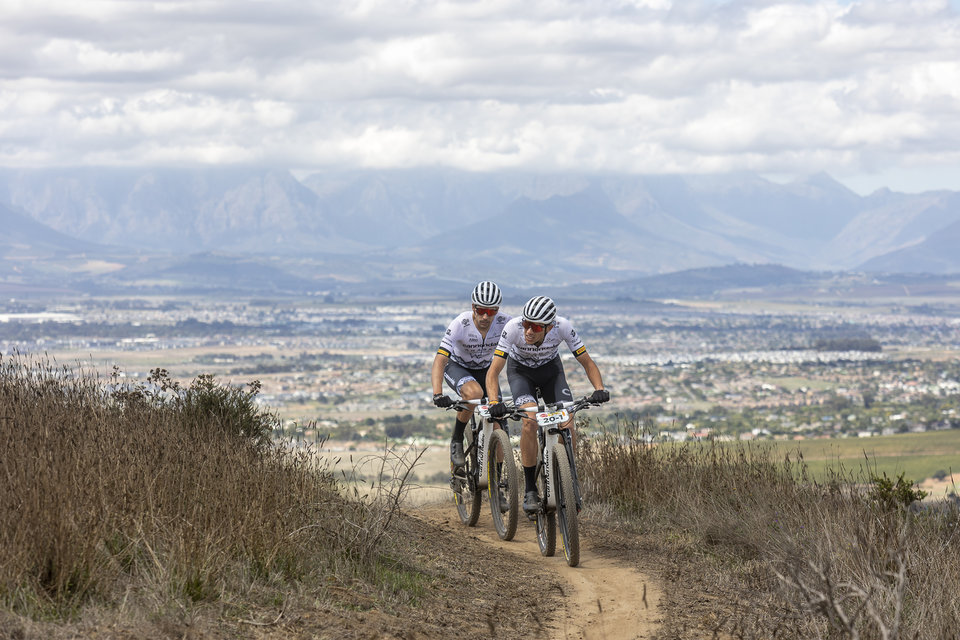 2023 Absa Cape Epic Prologue Results
Men's category
1. Toyota-Specialized-NinetyOne: 01:03:01.9
2. SCOTT-SRAM MTB-Racing: 01:03:09.3 (+00:00:07.4)
3. Orbea X Leatt X Speed Company Racing: 01:03:47.1 (+00:00:45.2)
CM.com Women's category
1. NinetyOne-songo-Specialized: 01:18:57.5
2. Efficient Infiniti Insure: 01:19:04.5 (+00:00:07)
3. E-FORT. net | SeattleCoffeeCo.: 01:19:27.7 (+00:00:30.2)
View the full Prologue results here.