Oak Valley Time Trial
Timing, in this case, is everything
The mid-race time trial made a welcome return in the 19th edition of the Absa Cape Epic. Far from a 'rest day' it was a gruelling challenge that tested the skills and fitness of the teams throughout the field. The course, spanning 47 kilometres within the confines of Oak Valley and Paul Cluver Estates, featured steep ramps and 875 meters of climbing, making it the most demanding time trial in the history of the event.
The singletrack sections — including Berg Adder and Puff Adder –– required absolute focus and aggressive riding. For the pros, it was a day to consolidate their GC positions and potentially make up some time, while for those not aiming for a top-10 finish, the approach was to get out there and enjoy the ride, taking in all the play stuff that the course had to offer, plus the bonus of a few extra hours to rest and refuel.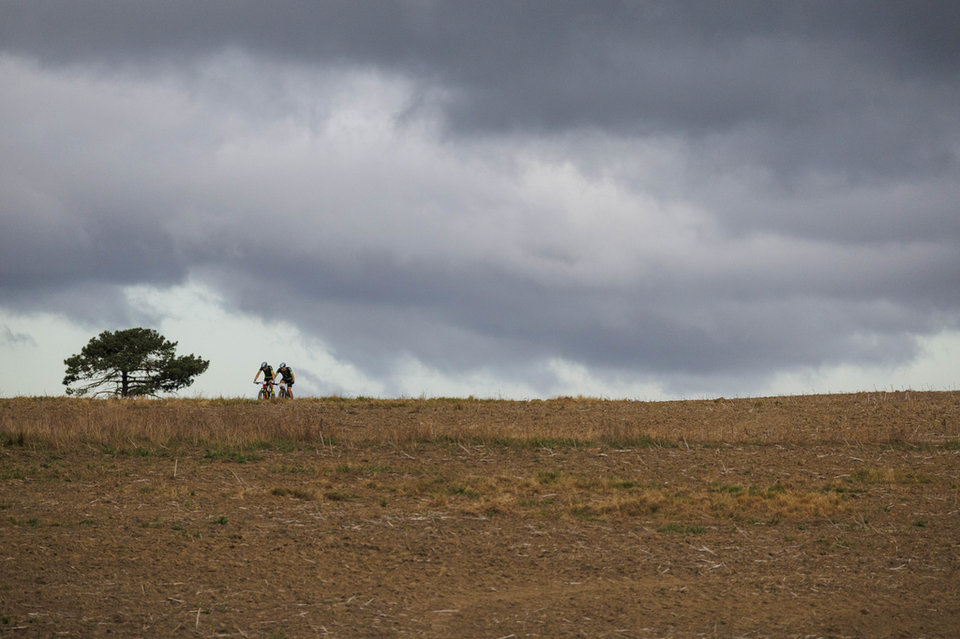 Matt Beers and Christopher Blevins (Toyota-Specialized-NinetyOne) won the TT, their fourth stage victory in five days, while Vera Looser and Kim le Court (Efficient Infiniti Insure) won in the CM.com Women's Category.
The Stage 4 win for Beers and Blevins leap-frogged them back onto the GC podium where they were now in third, some five minutes behind Yellow Jersey leaders Nino Schurter and Andri Frischknecht (SCOTT-SRAM MTB Racing).
Lukas Baum and Georg Egger (ORBEA x Leatt x Speed Company) — the defending 2022 Absa Cape Epic champions –– also had a superb day on the bike, finishing second on the stage. In doing so, they managed to eat away at the overall lead of Schurter and Frischknecht.
"I felt amazing today," said Blevins at the finish. "I don't know why, but today was just one of those days when I felt great. The wind made it tricky, but I had a lot of fun out there. We're happy with these stage wins, but we definitely want that Yellow Jersey."
Beers added that Blevins was the engine and the conductor on Stage 4. "We went out really hard but I realised very quickly that I wasn't feeling so great. Chris was amazing though. He just pushed on and got me through it. That's where teamwork is essential at the Cape Epic."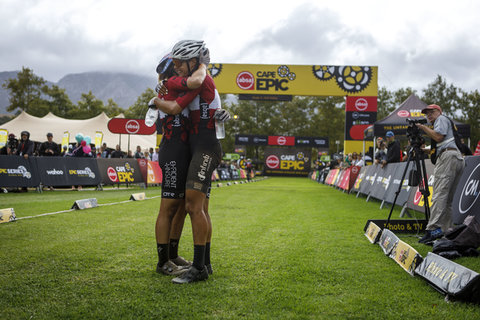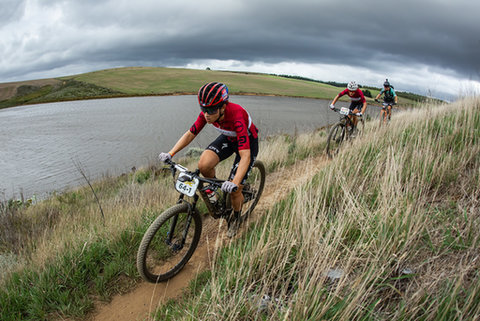 The nature of the format is such that teams on the route have no idea what their nearest rivals are up to. That had no effect on Le Court and Looser, as they raced almost flawlessly.
Le Court said it was a dream to win on her birthday. "We've raced before at another event and we won a stage there on Vera's birthday, so now it was my turn! It's been long days prior to today, so we are thrilled and slightly surprised with the stage victory."
Wakefield and Lill were last to leave the start chute and managed to overtake Villafane and Nash, who had started two minutes ahead of them. While the Orange Jerseys of Wakefield and Lill didn't set the course alight, they were still able to build on their overall lead with a smooth ride.