The Queen
"reigns"
again
Wet, water and wonderful
surprise performances
Water. The queen stage of the Absa Cape Epic was all about water. With various crashes and swims due to torrential overnight rain. Some experienced riders called it one of the most brutal days they'd ever experienced on a bike and 13-year Absa Cape Epic veteran, Oliver Munnik who –– alongside Signal Racing partner Rogan Short –– took the stage win in the Amateur category mused: 'That was the toughest Cape Epic stage I've ever ridden.'
The stage 102-kilometre-long stage lived up to its name and proved to be a gruelling test of endurance. The route took riders east from Oak Valley Estate towards Lourensford Wine Estate after a hard ascent through Paul Cluver Wine Estate and up Tierkop. After that came the iconic Groenlandberg Climb — a rocky 9km ascent with an average gradient of 7% (and pitches up to 15%). But Groenlandberg is more than just numbers; it's a part of the Cape Fold Belt, known for its challenging terrain and weather conditions. The descent is equally unforgiving and has often made or broken races. For pros, it's the Alpe d'Huez of the race, and for amateurs, it was a big hurdle to overcome.
After descending from the highest point of the race, the route wound its way towards the Eikenhof Dam and up Willie's Trail and sections of the famous A-to-Z singletracks towards the Gantouw Pass. The compulsory portage led into Knorhoek and across the Vergelegen Game Park, where the day's final climbs pushed the accumulated climbing up to the 2 450-meter mark. Once in Lourensford Wine Estate, the River Trail led riders straight down to the finish.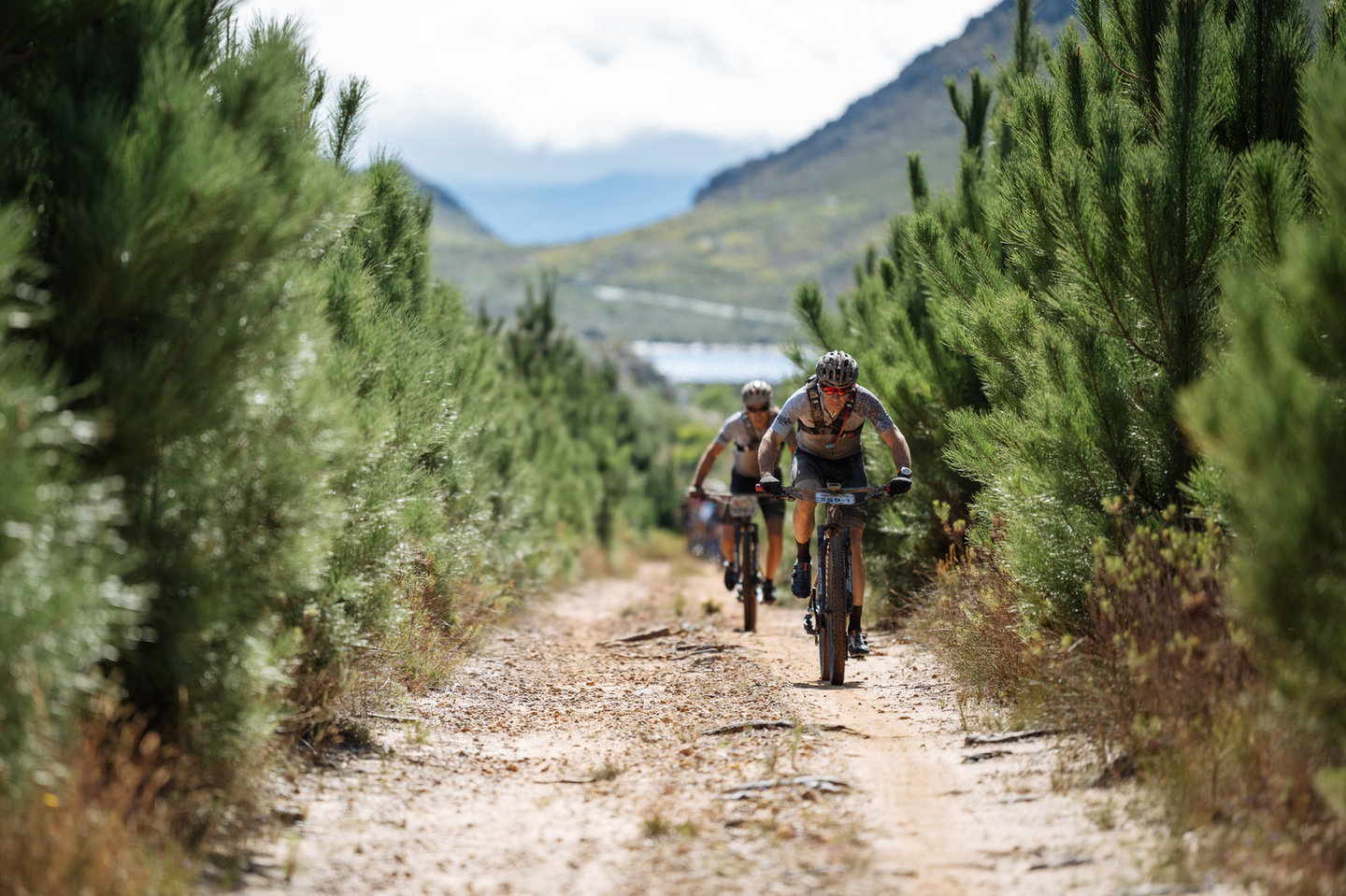 In the Men's race, the riders battled intense downpours and a drenched course for the first 30km. It wasn't enough to douse the fire of Egger and Baum, though. The German duo, who won the 2022 Absa Cape Epic on the final day of the event and so only wore the yellow Ciovita leader jerseys at prize giving, had been determined all week to race in yellow. Their decisive move to claim the overall lead came on Stage 5.
Sensing weakness in the field, they attacked on the Tierkop climb and never looked back. By 41km,
they'd raced over Groelandberg and held a commanding 50-second lead over the chasers. As the race progressed, the lead continued to grow with neither SCOTT-SRAM MTB Racing nor Toyota-Specialized-NinetyOne (Matt Beers and Christopher Blevins) able to respond.
The surprise package of the day, Singer Racing (Martin Frey and Simon Stiebjahn), was happy to sit in the chasing pack. Frey and Stiebjahn ultimately finished second on Stage 5 but didn't get involved in the general classification bunfight.
"That must be one of the most brutal days I've had on the bike," said Baum after the stage win. "I
was suffering out there in the conditions. The ground was loose and with every climb we were riding
through these little rivers. When I hit that puddle and went for a swim, I thought I was in the ocean. It
was super deep."
In yellow for the first time when racing at the Absa Cape Epic, Egger outlined the plan for the following two days. "It's great to wear the yellow jersey. There are two tough days to come and we just need to stay calm and ride well."
In the CM.com Women's category, Vera Looser and Kim le Court also made their move on a climb, attacking on the iconic Groenlandberg climb and cruising past Wakefield and Lill in the process
"We thought this morning that today could be another good day for us," said Le Court. "But then we had a really bad start and we were actually last going up the Tierkop climb. At that point we decided to do our own race and not worry about anything - then we just started catching everyone."
Looser said she was cramping at the start but eventually recovered. "I was really struggling with my leg. I just tried to stay calm and collected because I knew that would count in our favour towards the end. We got really strong as the ride went on and knew we could target that orange jersey with two days to go!"
For the CM.com Women's category leaders at that point in the race, it was another tough day for Wakefield. "I can't lie," she said, "That was another dark day for me. There are two days to go and I am hanging in. I need to thank my partner again for helping me so much."