Wind: A Furious Force to reckon with
Gale-force winds test teams' grit and determination
Monday 20 March dawned beautiful but ominous, with orange clouds tinging the sky. By 8:00 it was beyond blustery, with a gale-force North Westerly whipping Walker Bay into a frothy frenzy and grounding the live-broadcast helicopters. Nobody weathered the storm better than Amy Wakefield and Candice Lill (e-FORT.net | SeattleCoffeeCo).
For the first half of the women's race, the three leading teams were all together before Kim le Court and Vera Looser (Efficient Infiniti Insure) dropped off the pace. Villafane and Nash (NinetyOne-Songo-Specialized) sensed their opportunity and went off the front, opening up a small gap on Lill and Wakefield.
Not long after, Wakefield had a seemingly innocuous collision with a tree. The post-race footage, however, showed that a branch had pierced her upper arm, with Lill looking on in shock. With no medics nearby, Wakefield tended to the wound as best she could and what the pair had available. "I could see muscle and fat in the gash, but didn't see any blood, so I just taped it up and got back on the bike," said Wakefield.
"I actually asked Amy if she wanted to abandon the race," said Lill. "It was really bad, but Amy is so tough. She just took my duct tape, wrapped it around her bicep and carried on."
Undeterred by the drama, the pair rode on, caught Villafane and Nash at 70km and then surged ahead. They managed to stay in front for the remainder of the 98-kilometre-long Stage 1 which included some 2 550 metres of climbing to claim an empathic victory and ride themselves into the orange CM.com women's leader jerseys.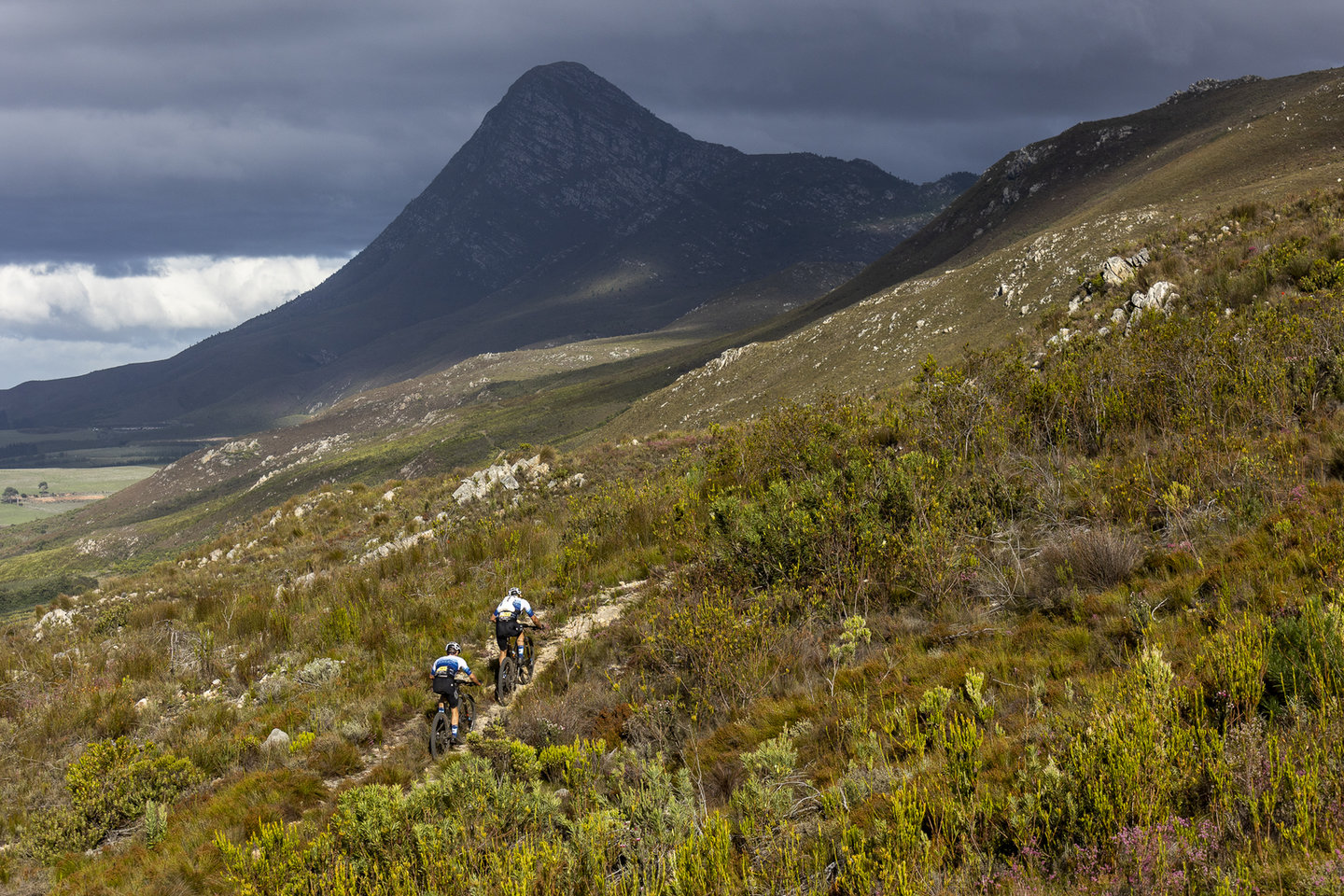 The men's category was not quite as dramatic but also filled with fierce racing that also ended in a jersey change.
Defending champions Lukas Baum and Georg Egger (ORBEA x Leatt x Speed Company) blasted various attacks early on, but nothing could stick thanks to the well-marshalled chase from SCOTT-SRAM MTB Racing. Schurter and Frischknecht eventually finished second behind Fabian Rabensteiner and Wout Alleman (Wilier Pirelli Factory) but rode themselves into Yellow after overnight leaders Matt Beers and Christopher Blevins (Toyota-Specialized-NinetyOne), had a terrible day and finished 12th on the day dropping down to eighth on the GC.