ABSA CAPE EPIC COMMITS TO UPLIFTING
BLACK SOUTH AFRICAN WOMEN
As the world's most prestigious mountain bike stage race, the Absa Cape Epic prides itself on innovation. During its growth over almost two decades, The Untamed African MTB Race has introduced new categories and included fresh contests to offer motivation and exposure to different riders. The addition of an Exxaro Women's Jersey from 2023 is a strong statement of the event's intentions to bring more black women into the race in particular and mountain biking in general.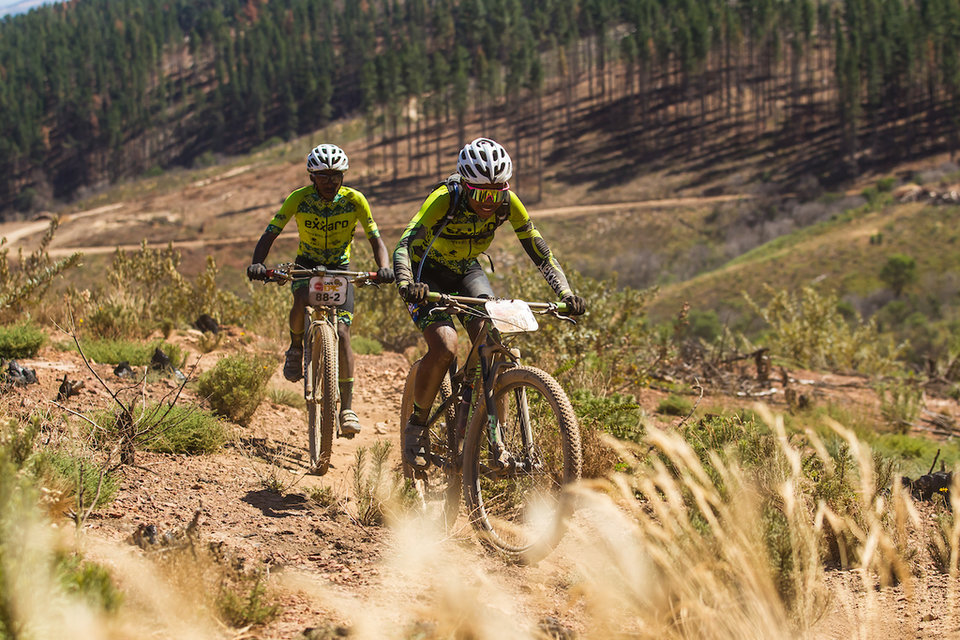 When the Absa Cape Epic introduced the Exxaro Jersey in 2012, it wasn't specific to any gender, but it was obvious that it would be contested by men. There were 9 teams that contested it that first year, with all finishing as complete teams. The highest placed team overall – Siphosenkosi Madolo and Azukile Simaylie – finished 77th, 10hrs 44min off the winners. From a field of 600 teams, a very respectable achievement and confirmation of the potential from a relatively untapped segment.
Since then, an average of 10 teams have contested the Exxaro jersey each year with 17 teams in 2017 being the most. There's a finish rate average in this Special Jersey division of 90%, which is high. In nine editions, a total of 37 Exxaro Jersey teams have reached the final stage finish line in the top 100, with nine of those in the top 50. That's high-performance territory and testament to the commitment shown by the riders and their support staff and sponsors.
Since its inception, the Exxaro Jersey has given more than 100 young, black, historically disadvantaged South African riders a goal to aim for. In addition to offering a special jersey, which comes with prizes and increased media exposure, the Absa Cape Epic essentially created a platform for a number of South African corporates to support development mountain biking through team or academy sponsorship. These sponsorships aren't usually limited to the race itself, but are invested in the riders' preparation and training as well as equipment and team support.
Disadvantaged black South African females under the age of 26 form a large section of the country's population. But competing in an expensive sport and entering the world's most high-profile stage race are a world away for most. In fact, the only way to achieve this is through corporate support and focussed development initiatives. While some development projects have been successful in enabling young black women to ride and participate in some events, there's been limited sustainability. A high-profile goal like the Exxaro Jersey for women at the Absa Cape Epic could be just the catalyst needed to change this.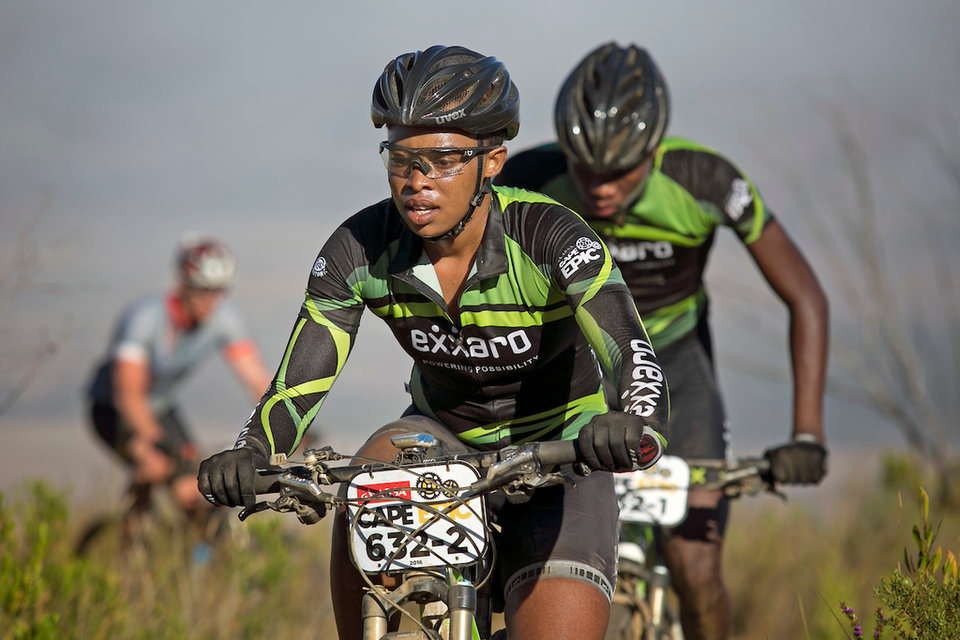 "The Absa Cape Epic has for many years now been promoting equality in women's cycling with equal prize money and specific rules to allow for more competitive racing. Equally, we have always promoted diversity and have encouraged historically disadvantaged cyclists to take part in the event by providing access to entry through working with development cycling academies around the country and in particular with the Exxaro Mountain Bike Academy," said Marc Erasmus, Absa Cape Epic Partnership Manager.
"We have seen an increase in the number of women riders and a greater awareness in women's cycling in general and so it was a natural progression to introduce an Exxaro Special Jersey for women – thereby encouraging and motivating more historically disadvantaged South African women to get involved in the event in particular and the sport in general," added Erasmus.
Erasmus says that the Exxaro Jersey for women may require some adjustments to the qualification requirements. For the men, both riders must be historically disadvantaged black South Africans under the age of 26.
"As we look for ways to build the women's division in general and the Exxaro Special Jersey contenders in particular, we may need to tweak the qualification requirements initially in order to encourage as many women and possible to take part," said Erasmus.
The first previously disadvantaged black South African woman to finish the Absa Cape Epic was Rozalia Kubwana, who teamed up with American, Alisha Meyers. Kubwana then completed the following edition in 2014 with Shalotte Mojela to become the first historically disadvantaged black South African women's team to complete the event, also with the backing of the Exxaro Academy. They finished in 20th place in their category and over 19 hours slower than the winners that year. But while Mojela and Kubwana were the last women's team to finish, they were the first to prove that it is possible for other young black South African women to conquer one of the world's toughest sports events.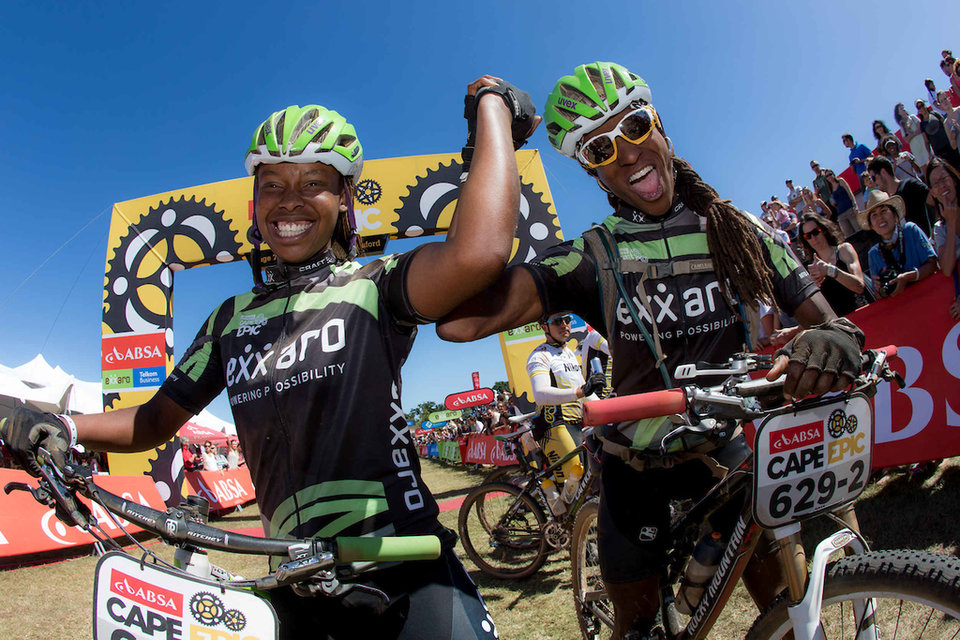 Curro Holdings, the largest private school group in South Africa, had no hesitation in matching the main prize for the new Exxaro Women's Jersey winners to that of the Exxaro Jersey men's main prize. It's two 12-year scholarships to children of the winners' choice (each member of the winning team wins a scholarship to gift a child). In addition, Stadio has also offered the winners of the Exxaro Women's Jersey access to a bursary for one of 20 distance Higher Education qualifications.
"I'm excited! This is something I have always wished we had so that we can get an equal chance to compete for the Exxaro Jersey. Most important to me are the prizes that can change someone's life with a better education.," said Refilwe Mogorosi, who has completed two Cape Epics, one in the Mixed and one in the Women's divisions.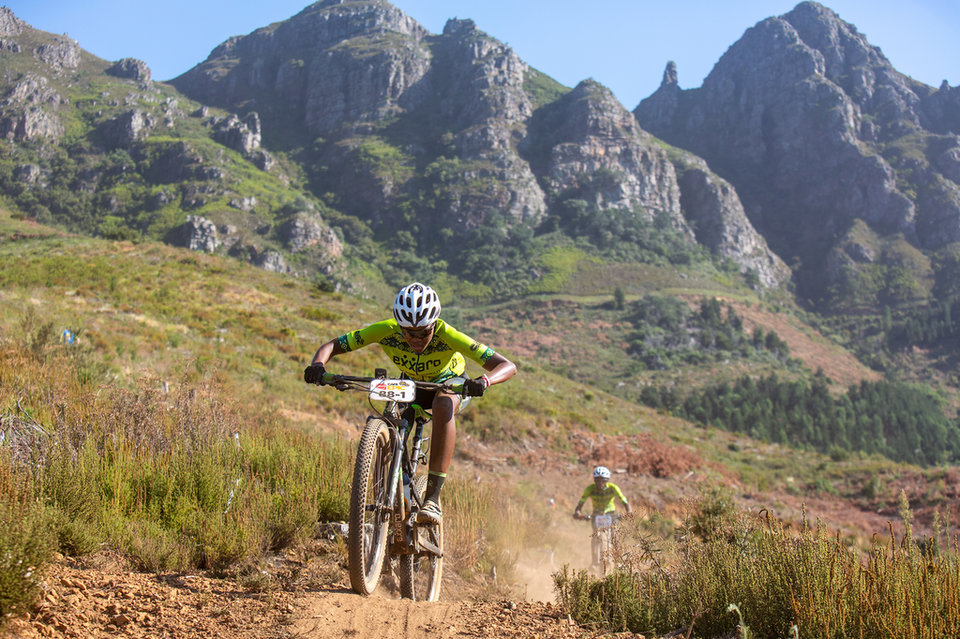 "Everything has a starting point. I believe that with this new Exxaro Jersey, other teams or academies will actively recruit more girls and help train them to compete for this prize," added Mogorosi
"If you look at the strides and effort the Cape Epic has put with regards equality for women in mountain biking, the Exxaro Special Jersey is a fantastic initiative. I recall last year when I did my first Absa Cape Epic, I was asked what I wanted to see in the future and I said an Exxaro Jersey for females because we are physiologically inferior to the males and have no chance of ever winning it," said Remofilwe Moeketsi, who has complete two Absa Cape Epics, both in the Women's category.
"I'm hoping they relax the Under-26 age rule because there are very few young black women that are doing mountain biking. This new jersey will definitely be a motivation. When you see someone that looks like you excelling and standing on a podium, it encourages you and allows you to dream the possible, not just the impossible," added Moeketsi.