The Contenders: The NTT Masters
Multiple past champions will vie for the coveted blue NTT Masters jersey.
There are many reasons to race the Absa Cape Epic. For Karl Platt, a five-time winner of the men's category and defending champion in the NTT Masters, the motivation has changed over the years. 'Fun' is a word you'll often hear the charismatic German throw around. For the man who won the very first event in 2004 with Mannie Heymans and in subsequent years left several world and Olympic champions in his dust en route to the top step of the podium, 'enjoyment' is what it's all about these days.
In 2022, Platt and long-time rival Christoph Sauser (who also holds five men's Absa Cape Epic titles) made the most of every stage, and through regaling war stories the pair took great pleasure in the riding together. Of course, you can never take the racing legs out of an ex-pro and, amid smiles and hi-fives they convincingly won the NTT Masters blue jersey. There were murmurings that the unlikely partnership would join up for another lap of the Western Cape but that is not to be, and this year Platt will be defending his title with Tomi Misser. "You won't believe how much we've been laughing today," Platt said after a training day in Africa with Misser in late January.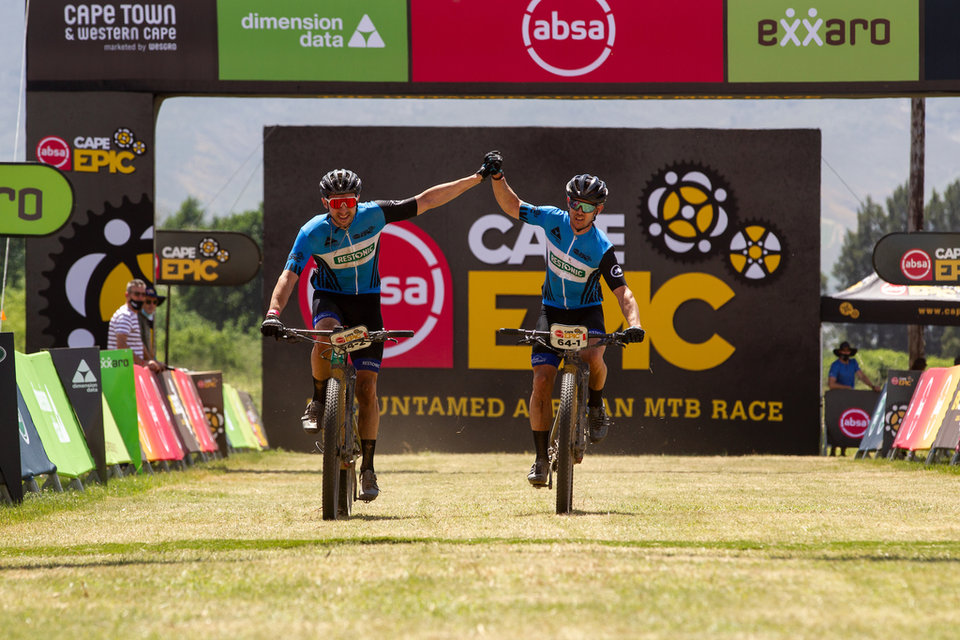 Misser is a multi-disciplinary racer who holds multiple Masters Downhill World Titles, has won World Cup races and has various XCO titles to his name. Most recently he's been racing Cyclocross, often finishing high up in the elite rankings. The German/Spanish pairing of Platt and Misser have raced together before at the SPAR Swiss Epic and Platt says he could not stop smiling. "We had so much fun. We could smash the downhills super hard and just laughed the rest of the way."
Make no mistake about it though, with such a rich combined racing pedigree, the two do not regard the race as any kind of joke and, while having fun out on the trails of the Boland and Western Cape, will be serious competitors. According to Platt, their training has been going well. "I started in earnest in November with a training camp in Majorca," he says. "December was good and now I'm here in South Africa for a few weeks of training and racing. There is still some time (ahead of the start) and the form is where it should be," he added. Platt expects the racing in the ever-strengthening NTT Masters category to be fierce and believes the tough route will play a factor. "The stages around Hermanus are often hot and very tough with lots of steep climbing in the valleys," he says.
As for the reintroduction of the mid-week time trial? "I love racing against the clock," he says. "It's going to be a lot of fun, and very interesting for us and in all the other categories."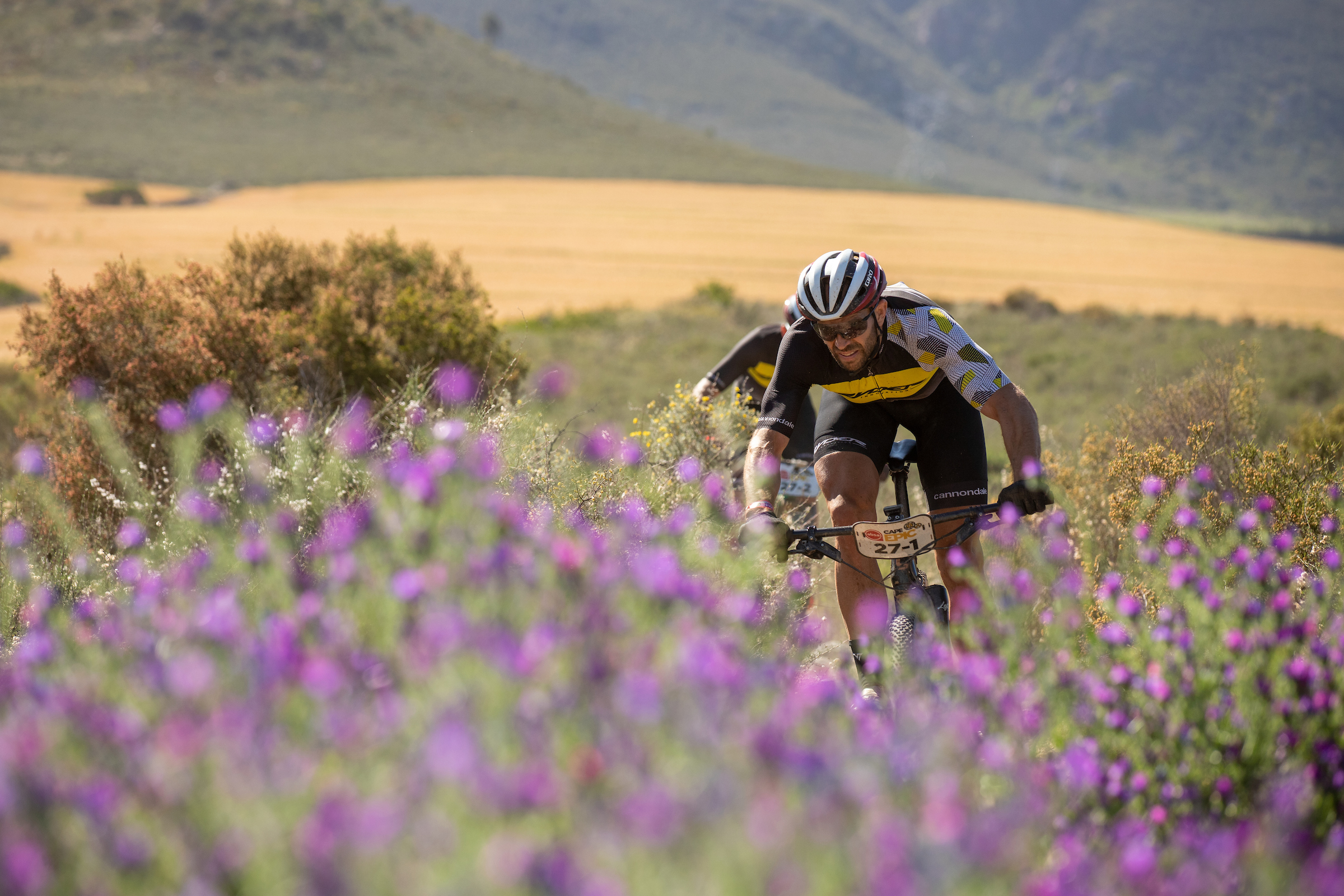 Platt and Misser have their work cut out for them however in the form of a new South African powerhouse pairing of Craig Uria and Mike Posthumus. Uria is highly experienced with seven Absa Cape Epic finishes to his name. He won the NTT Masters title in 2021 with long-time partner Andrew Duvenage and the pair finished third in 2022. Posthumus is a sports scientist and coach who has coached several athletes to national championship wins and Absa Cape Epic leader jerseys. As an athlete in his own right, he has always been highly competitive, having played provincial rugby before competitive mountain biking. Posthumus is also highly experienced with six Absa Cape Epic finishes under his belt.
"I started riding and racing later in life but have always strived to do things to the fullest," says Uria. "I previously raced in the elite category for a few years, where I feel invaluable lessons were learnt, my expectations were always realistic and goals were for personal development as a rider. I turned 40 in 2021, and felt it was the time to try to stand on an Absa Cape Epic podium, everything fell into place after hard work and we won, this was a dream come true. Last year's race was really rewarding being able to go up against the likes of Karl and Susi, as well as some experienced international riders. We had our fair share of adversity, which is typical of an Absa Cape Epic, but we pushed on finishing on the overall NTT Masters category podium." According to Uria, he and Posthumus have set clear goals for 2023. "Go and race our hearts out!"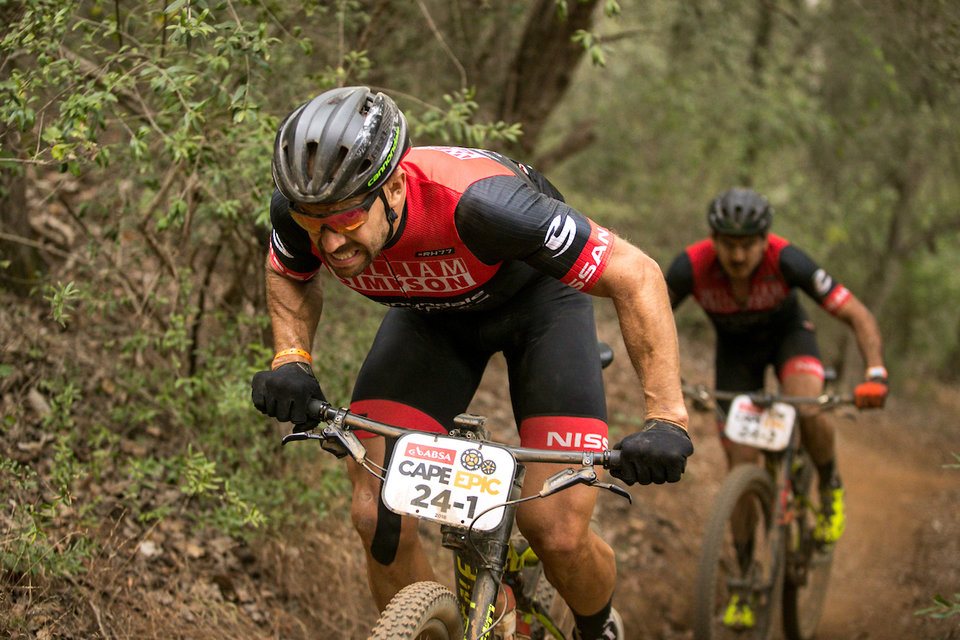 As with Platt, Uria believes the route will play a major role in the eventual outcome. "The diversity of the route is great and keeps one on their toes as you can't get too comfortable with a certain style of riding," he says. "For example, there is a good mix of loose, sandy, rocky trails around Hermanus and then the fast and smooth trails in Oak Valley. You can be sure there will always be some big climbs, this year one of these has to be the iconic Groenlandberg from the east side. Indeed, it looks like the last three stages are going to be particularly tough, from the queen stage being a big day, the Lourensford day is going to be a beast and that final stage is no walk in the park, certainly the biggest Grand Finale day on paper I've seen in the last few years!"
Other teams to keep an eye out for include, Roland Müller and André Bachmann (skyPixX) who finished second in the NTT Masters category in 2021; the Australian outfit of Lachlan Murray and Craig Turner (MAAP MTB), Pavel Gonda and Jan Fisnar (Czech Rockets), as well as the highly experienced South African team of Paul Theron and Igna de Villiers (LGE Midas).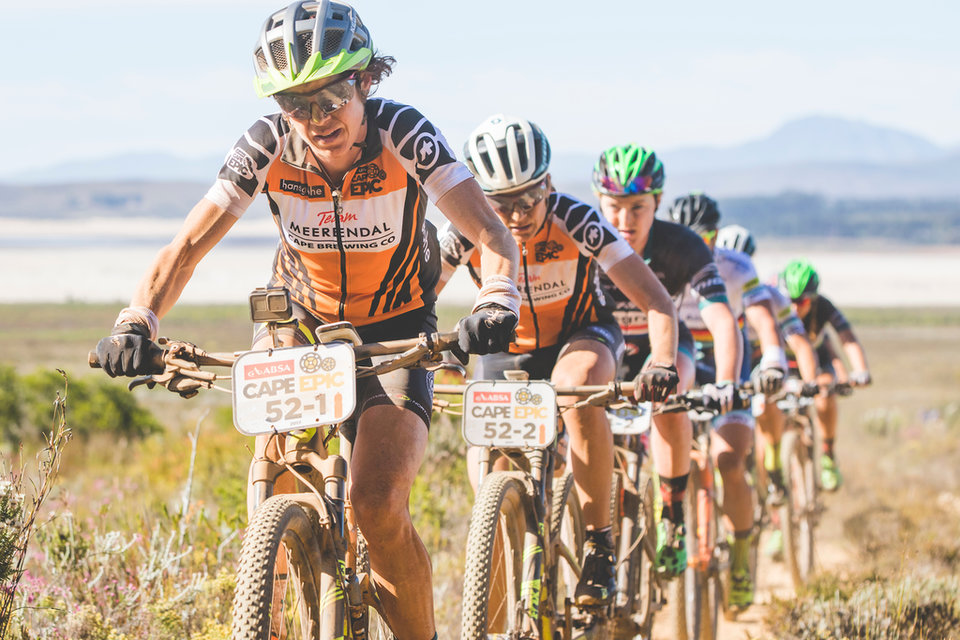 The NTT Masters women's category promises to be as competitive with the highly experienced duo of Jennie Stenerhag and Esther Suss racing as CM.com Ladies as, perhaps, the biggest favourites. They will be up against the likes of CM.com stable mates, Tessa Keers and Nicola Walker, as well as Teresa Coetzee and Petro Labuschagne racing for AA Mahindra, both of whom are Ambubesi members. In addition, there are a host of local and international debutant teams in the race, any of whom could cause an upset in the category.
Hannele Steyn, the matriarch of the Absa Cape Epic, and her partner Anneke Jacobs are also racing in the NTT Masters category; although their ambitions differ to those of their competitors. For Steyn, this race is another chapter in her quest to remain one of the Last Lions. The Last Lions award was launched to celebrate their achievement and will award the Last Lion trophy to the last rider among them who is still in the event.
The competitive fire still burns in Steyn many years after her retirement from a pro racing career that saw her win the Triathlon World Championships in 1994 and earn South African National Colours for Biathlon, Duathlon, Triathlon and Mountain Biking. As the last female rider left who has completed all the races, she is known as the Last Lioness and wears the moniker proudly.
Follow the race for the NTT Masters leader jerseys during the Live Broadcast of the Absa Cape Epic from 19-26 March on cape-epic.com.